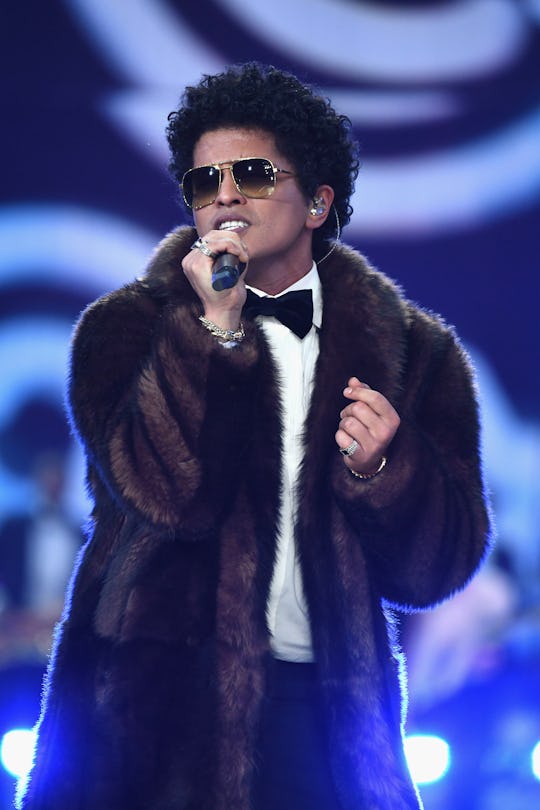 Pascal Le Segretain/Getty Images Entertainment/Getty Images
Bruno Mars' Victoria's Secret Fashion Show Performance Overflowed With "24K Magic" — VIDEO
The Victoria's Secret Fashion Show might not be synonymous with all-star performances, but the 2016 show contained star-studded splendor in multitudes this year. One perfect example? Bruno Mars' Victoria's Secret Fashion Show performance, which was overflowing with "24k Magic," but not just for the performer — there was ample sparkle and shine for the fashion show itself and for the women walking the stage. Taking the stage in a simple velvet black dinner coat, a floor-length brown fur, and his signature sunglasses, Mars treated the audience and legions of fans back home to a sparkling rendition of his stellar 2016 standout hit "24k Magic" and "Chunky."
The aptly titled 24K Magic album, which was released just weeks ago to Mars' ever-growing and exploding fanbase, has thrust the funky, fresh pop-music star into a world of exciting celebrity. Not only was "24K Magic" a chart topper (it was "on track" to make a top 10 debut on the Billboard Hot 100 chart, according to Billboard.com, and thoroughly enjoyed a No. 2 debut on the Billboard + Twitter Top Tracks chart just two weeks after its initial release), but it's also been in hot demand: two weeks ago at the AMAs, Mars performed "24K Magic" and he's slated for a world tour: 24K Magic, kicking off in 2017.
Mars' took the stage with his signature funky, Motown-inspired flair. As he does every single time he performs, Mars' mere stage presence injected so much personality into the show. And fans watching at home immediately took notice:
Talking with Ryan Seacrest on his show On Air with Ryan Seacrest, Mars discussed the inspiration behind the album: "I wanted this album to be called 24K Magic," he said, adding: "So what does that feel like? What does that sound like? And I started listening to all the music that I grew up listening and dancing to at prom. It was such an innocent time for me."
He continued:
Pop music, when I was growing up, was New Edition, Boyz II Men, Michael Jackson, Whitney Houston, Mariah Carey — that was pop music. It's the reason why I'm talking to you today. My love for that and seeing that as a kid and saying one day I want to do that. So I kind of just wanted to bring it back to that.
After seeing him perform these past few months and looking forward to his 24K Magic world tour in 2017, I don't think there's anyone who could ever disagree with that.