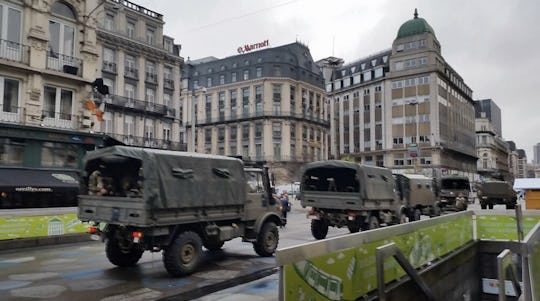 ZaprudskyOU/Twitter
Brussels Weapons Arsenal Linked To Paris Attacks, & Here's What We Know So Far
Belgian police have discovered an arsenal of explosives, weapons, and chemicals in Brussels, specifically Molenbeek, a suburb in the Belgian capitol city of Brussels. This discovery comes just hours after Brussels was placed on lockdown Friday when the Crisis Centre of the Belgian Interior Ministry raised their terror alert to its highest level with intelligence that Paris terror attack suspect Salah Abdeslam had crossed borders into Belgium. On Saturday, Turkish authorities arrested three suspects in connection with the Paris terrorist attacks. Here's what we know so far.
Manhunt for a Murderer: Who is Salah Abdeslam?
Sala Abdeslam, 26, is the subject of an international search warrant. Abdeselam is the brother of Brahim Abdeslam, a terrorist who detonated a suicide bomb outside a Paris bar on the night of November 13. He is believed to both a gunman and driver of the getaway car used in the attacks that killed 130 people.
Abdeselam is believed to have fled France the night of the attacks, crossing into neighboring Belgium. Though stopped and questioned by authorities just hours after the Paris attacks, Abdeselam was released as his connection to the attacks was not yet known at the time.
Abdeselam is a French national born in Belgium where he and his brother grew up in the Molenbeek suburb of Brussels, described by authorities as a "terrorist hotbed" for Islamist extremists. On Friday, Federal Police carried out a raid on Abdeselam's apartment in Molenbeek where they discovered an arsenal of weaponry and explosives.
Brussels "City Center Looks Like a Military Base"
All shopping centers and the city's metro transit system in Brussels are closed Saturday with the capitol at terror alert level 4, Belgium's highest threat level. One resident has described the "city center looks like a military base" due to the visible police and military presence throughout the city, as security officials warned of an "imminent threat" to the city on Friday:
Terrorist Suspects Arrested in Turkey
Also on Saturday, Turkish authorities arrested three men wanted in connection with the Paris attacks. They've been identified as 26-year old Ahmet Dahmani, 29-year old Ahmet Tahir, and 23-year old Mohammed Verd. They were arrested in the Turkish city of Antalya.
Dahmani, a Belgian citizen of Moroccan descent, has been described by authorities as a "Paris attack scout" by gathering information about potential terrorist attack locations throughout Paris. The other two men arrested, Tahir and Verd, are Syrian nationals who are believed to have been sent by ISIS to safely escort Dahmani across the border into Syria.
Images: ZaprudskyOU/Twitter, Police Nationale/Twitter