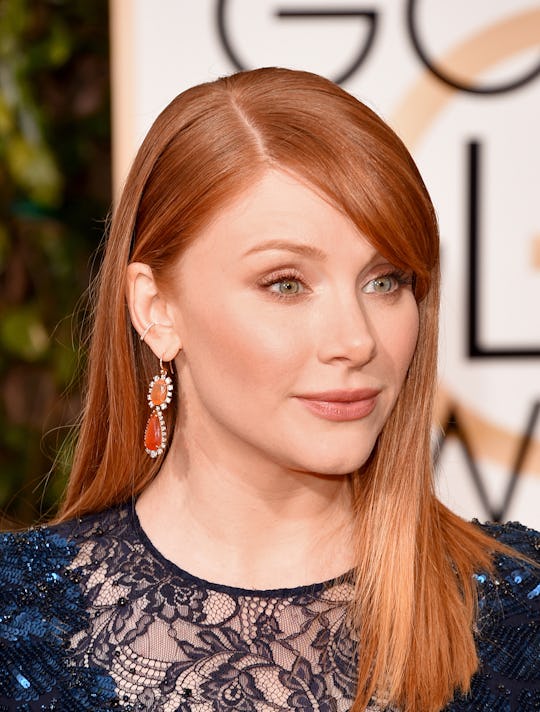 Getty Images
Bryce Dallas Howard Buys Jenny Packham Golden Globes Dress At Neiman Marcus, Looks Totally Flawless
Talk about keeping it real: Bryce Dallas Howard bought her own Golden Globes dress by Jenny Packham at Neiman Marcus, sans stylist and all by herself this year. That's really stepping outside of the box for Hollywood award shows, especially since most of the time stylists pick out a look (or a few options) for celebrities walking the carpet. In fact, Giuliana Rancic was so shocked she asked the star twice: "You went and bought it yourself?" Howard, however, was unfazed, and more power to her! In fact, was pretty matter of fact about her methods, too. The actress told Rancic that it's about options:
Because I like having lots of options for a size 6, as opposed to maybe just one option. So I always go to department stores.
Can we get a hell yes? The dress was absolutely just as gorgeous as anything a stylist could have talked a designer into handing over for the night. And best of all, it was something she actually liked. Let's be real: Loving your outfit can be a real confidence booster, whether you walk a red carpet or not, so to see Howard looking and so clearly feeling her best made it all the more gratifying a moment.
It's not the first time a star has rocked something off the rack on the red carpet. In 1998, Sharon Stone wore a Gap button down shirt tucked into a shimmering maxi skirt and blew everyone's minds (when doesn't Sharon Stone blow your mind?). Even better? It's probably one look you can actually imitate from tonight.
Here's Howard in all her red-carpet glory:
On Twitter, fans were loving the idea that she went out and grabbed her own gown for the night:
More than anything else, it's also a nod to lessening the emphasis on asking women what they're wearing on the red carpet, as Amy Poehlor's Ask Her More campaign gains more traction. Good for Bryce for keeping it real. And having fun.
Image: Jason Merritt/Getty Images(2); Giphy