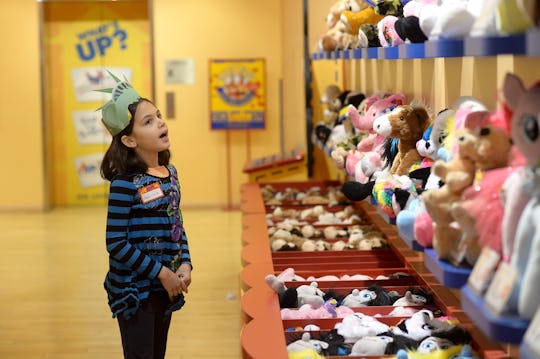 Gustavo Caballero/Getty Images Entertainment/Getty Images
Build-A-Bear Workshops Are Now In Select Walmarts, Because Some Dreams Do Come True
If you regularly take your kids grocery shopping at Walmart, you may need to start getting creative about avoiding a new section of the store. As of this month, six Walmart stores now have Build-A-Bear Workshop pop-ups inside, in various cities across the United States. Here's everything you (and your soon-to-be screaming child) need to know about the exciting new development.
The six new Build-A-Bear Workshops are part of a pilot program, and they rolled out over the past few weeks at Walmarts in Dallas, Texas; Stockton, California; Phoenix, Arizona; Riverside, California; Daytona Beach, Florida; and Victorville, California, according to USA Today. Walmart will have most of Build-A-Bear's classic animals available for stuffing in-store, as well as a slew of accessories, according to FOX2now. Additionally, USA Today noted, Walmart's Build-A-Bears will feature a new collection called Condo Cubs, featuring bears, cats, dogs, and bunnies, selling for $10.
In case you don't live near one of the six aforementioned cities, there's still a chance you might find Build-A-Bear products in your local Walmart. As Build-A-Bear noted in a press release on its website, there will be several new offerings at Walmart locations nationwide. Walmart is now selling the Just Play Build-A-Bear Workshop Rainbow Bear and Pink Kitty plush sets, which come with an un-stuffed animal, stuffing, a birth certificate, an outfit, accessories, and a locket. The kits will allow children to stuff, dress, and accessorize their furry friend at home, making it a fun holiday gift.
Walmart is also selling mini Just Play Build-A-Bear Workshop plush blind-box collection, which comes with a surprise group of 4-inch furry friends. In addition to in-store, you can purchase these new mini Build-A-Bear items on Walmart's website.
The mom behind the YouTube account That Disney Mom & Haley read about the Build-A-Bear opening at her local Walmart, so she headed over to the department store to check it out. Based on her YouTube video, the pop-up really looks like a full-sized Build-A-Bear. She made sure to focus on the Condo Cubs in the video — $10 is a pretty awesome price point, considering Walmart is known for being affordable.
If you're hoping a Build-A-Bear will open in a Walmart near you in the future, hold onto your hat, because it seems like a strong possibility. Jennifer Kretchmar, Build-A-Bear Workshop's Chief Product Officer, explained in the press release that a licensing agreement between the two brands could continue for many years. She said in a statement:
Many our most recent in-store collections were created with outbound licensing in mind and, because we believe in these partnerships and products, we integrate outbound product launches into our company marketing plans to present them to our passionate fan base. ... We believe these new partnerships and collections will help drive licensing storylines and help us monetize the Build-A-Bear brand for years to come.
Here's the full list of Walmart locations with Build-A-Bear Workshops, as per USA Today:
Dallas, Texas (1521 N. Cockrell Hill Road, Dallas, TX 75211)
Stockton, California (3223 E. Hammer Lane, Stockton, CA 95212)
Phoenix, Arizona (5250 W. Indian School Road, Phoenix, AZ 85031)
Riverside, California (6250 Valley Springs Pkwy., Riverside, CA 92507)
Daytona Beach, Florida (1101 Beville Road, Daytona Beach, FL 32119)
Victorville, California (12234 Palmdale Road, Victorville, CA 92392)
Happy stuffing!