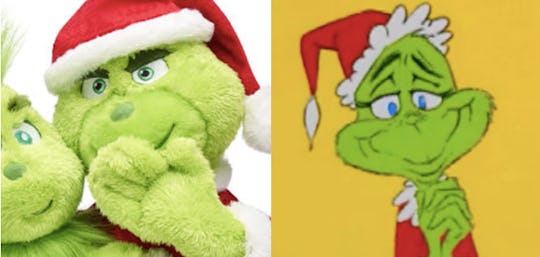 Build-A-Bear Workshop/ Giphy
Build-A-Bear's New Grinch Collection Is So Cute, It'll Make Your Heart Grow Three Sizes
There's nothing like bringing your kids to the Build-A-Bear Workshop and letting them get a little creative. Helping them to make something they're going to treasure for years to come, with any luck, or at least for a season or two. And it looks as though the geniuses at Build-A-Bear have come up with something extra special to keep the kids occupied over the holiday season this year. Really, Build-A-Bear's new Grinch plush is perfect for all of those little Cindy-Lou Whos, who are no more than two. Although you can actually be more than two and enjoy this Grinch Build-A-Bear, I promise.
In honor of the new movie The Grinch — which opens on Nov. 9 across the country and stars Benedict Cumberbatch as the voice of the title character — Build-A-Bear has launched a new product. A shockingly cheerful looking Grinch plush, actually. Although to be fair here, try to think about how your kids would feel snuggling up to a plush toy based on the original character from Dr. Seuss' iconic 1957 children's book How The Grinch Stole Christmas — he wasn't exactly the cute and cuddly type now, was he?
This version of the Grinch, on the other hand, is just the kind of sweet plush toy kids will love.
The Grinch plush is available at Build-A-Bear Workshop locations through the United States, Canada, and even in the land of the real Benedict Cumberbatch, the United Kingdom, as noted on the company's website.
As with all things Build-A-Bear, prepare yourself for some excellent choices in the way of accessories. Think a 3-piece Santa costume (obviously, because how else is he expected to steal Christmas if he can't dress up as Santa Claus?), or a #TeamGrinch hoodie. You know, for when your other plushies want to show their support for the Grinch. Oh, and please don't forget the matching Grinch feet that honestly look like they would be super comfortable slippers.
Not sure if you prefer the child version or the adult version of the Grinch? No problem, customers can buy the full-sized Grinch for $25.50 or go for my personal favorite, Young Grinch, for just $12.50.
I know what you're thinking; I literally just got over Halloween and now you're sending me directly in the path of Christmas? Sure it might seem early, but hear me out.
In my opinion, the story of the Grinch can be seen as something of a bridge between two holidays, a gently entry into the madness of the holidays if you will. Because he's not into Christmas but he eventually gets sucked in just like the rest of us.
Although that being said, I'm not really sure how he feels about Thanksgiving, and we still have to go through that before fully embracing Christmas. Still, Thanksgiving or not, I think parents would be wise to snap up these Grinch plushies from Build-A-Bear Workshop sooner rather than later. To remind your kids and yourself that it's OK to resist the pull of the holidays at first.
As long as you know that eventually, you're going down just like the rest of us.