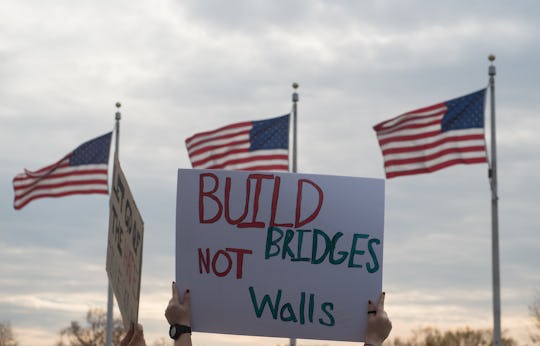 NICHOLAS KAMM/AFP/Getty Images
Bullying Stats After Trump's Election Show A Disturbing Rise In Hate In America
Well before Americans headed to the polls to vote in the presidential election in November, the link between President-elect Donald Trump's campaign and a rise in discrimination, racism, and bullying was already a concern. Even though it wasn't necessarily expected that Trump would actually win, his unabashedly offensive comments — calling Mexicans rapists, making fun of a disabled reporter, calling for a ban on Muslims entering the country, and making derogatory remarks about women — made it seem acceptable for others to do the same. But bullying stats after Trump's election win suggest that his victory has led to an increase of hate crimes across the country, and that is both heartbreaking and very scary.
In an op-ed published Wednesday, The New York Times writer and bullying expert Emily Bazelon wrote about the rise of discrimination and racism in schools in the wake of Trump's election win, thanks in large part to Trump's normalization of bigoted messages throughout his campaign. Although these incidents certainly existed before the election (and certainly during his campaign), Bazelon argued that "Trump's victory gives others license" to display their racist and hateful views out in the open — and the most recent statistics about hate crimes seem to back that up. According to The Southern Poverty Law Center, "437 reports of hateful intimidation and harassment" have been reported to the center since the election, including a variety of incidents taking place in American schools.
While not all of the reports of Trump-related hate crimes have been verified, those under investigation are pretty horrifying. According to NBC New New York, students at the York County School of Technology in Pennsylvania were caught on video Wednesday walking through the halls with a Trump sign while allegedly saying "white power." At New York University, Trump graffiti was reportedly written on the door of a Muslim prayer room, and at the University of Pennsylvania in Philadelphia, black students reported receiving "violent, racist" text messages from an app called GroupMe. And at DeWitt Junior High School in Michigan, the mother of a 12-year-old Hispanic girl was allegedly blocked from her locker Wednesday by a group of boys who "formed a human wall," and told her to "go back to her country" and that they were going to "make American great again," according to Mlive.com. The girl's mother, Corina Gonzalez, said that even though the school has begun an investigation, "you can never take back what's been done to her. You can't take back that she's endured racism at the age of 12."
According to The Southern Poverty Law Center, most of the reports of post-election discrimination have been targeting immigrants and blacks, with the LGBTQ and Muslim communities also receiving increased harassment. The majority of these incidents have occurred in K-12 schools and universities, although businesses have also been a popular target. And according to SPLC spokesperson Ryan Lenz, the effect has been pronounced. He told The New York Times, "we haven't seen this volume in the United States in decades, with the exception of the wave of anti-Muslim incidents that followed 9/11."
In Minnesota, students at Maple Grove Senior High School left shaken after someone covered one of the bathrooms in racist graffiti, including "Make America great again," "#Go back to Africa," "Whites only," "White America," and "Trump." Maple Grove student Moses Karngbaye told a CNN affiliate that seeing the graffiti was "the first time I honestly felt like crying at school."
At the University of Michigan, police were investigating a report that an "unkempt and intoxicated" man approached a female student and "threatened to set her on fire with a lighter unless she removed her hijab," according to CNN. And at San Diego State University, a Muslim woman reported having her backpack, purse, and car stolen by two men who were making comments about Trump, Muslims, and her hijab. SDSU President Elliot Hirshman released a statement following the incident, and said,
We condemn this hateful act and urge all members of our community to join us in condemning such hateful acts. Hate crimes are destructive to the spirit of our campus, and we urge all members of our community to stand together in rejecting hate.
But it doesn't appear to just be minorities on the receiving end of Trump-related hate. According to The New York Post, 24-year-old Bronx resident Corey Cataldo said he was assaulted on a train by two men for wearing a "Make America Great Again" hat. Cataldo said one of the men asked him if he was a Trump supporter, and when he said yes, he proceeded to choke him while the other man "shoved him against the window." Cataldo also claimed that he's had a difficult time getting service at restaurants while wearing a Trump hat, but told The Post that he still intends on wearing it out in public: "I'll still be wearing them, mark my word. I'm a die-hard Trump fan. I love my country and I'm so happy he won."
Trump, for his part, appeared to address the concern about hate crimes following his election during his first post-election television interview on 60 Minutes Sunday, but many criticized the president-elect for not taking a hard enough line. According to The Washington Post, when Trump was asked about the reports by correspondent Lesley Stahl, he responded that he was "very surprised to hear that," and that, "he hates to hear that." When Stahl told Trump that people were "harassing Latinos [and] Muslims," and asked if he wanted to say anything on the matter, Trump said,
I would say don't do it, that's terrible, 'cause I'm gonna bring this country together ... I am so saddened to hear that. And I say: Stop it. If it, if it helps. I will say this, and I will say right to the cameras: Stop it.
The existence of racism and hate crimes obviously isn't new, and even reports of harassment linked to Trump's run for president have existed for a long while. But the uptick in incidents following his win certainly suggests that people have become emboldened on both sides as a result of the surprising election results, and the fact that so many young people are facing these attacks in their own schools and neighborhoods is extremely alarming. If Trump is indeed sincere about uniting the country, it seems like addressing the issue of hate crimes and Trumpism would be a good place to start.