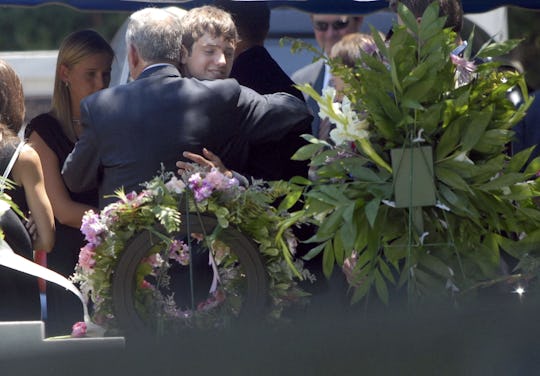 Barry Williams/Getty Images News/Getty Images
Burke Ramsey Quotes About JonBenét Ramsey That Finally Shed Light On His Thoughts
When JonBenét Ramsey was murdered in her home the day after Christmas in 1996, a case was opened that would never close, and to this day remains unsolved. Although there have been theories and short-lived suspects, no one has ever been charged for the murder of Ramsey and the family has always asserted their innocence. Her older brother Burke who was nine at the time of JonBenét's murder, has been quiet for years, but a round-up Burke Ramsey's quotes about JonBenét Ramsey over the years show that he has been in the same mindset as their parents for the past almost 20 years. He recognizes the public scrutiny the Ramseys faced over the years.
Burke hasn't spoken much about the case at all in the past two decades, but will soon break his silence in an interview on Dr. Phil as he speaks out about JonBenét's murder publicly for the first time ever on Sept. 12. One of the only recorded instances of Burke talking about his younger sister's death was in a 1998 police interview video from two years after the murder that was only just released in the recent A&E special, The Killing of JonBenét: The Truth Uncovered, but it gives insight into Burke's thoughts on the murder, the case, and what his family went through.
Part of the reason why Burke has been silent for so long was likely at the insistence of his parents in order to keep him out of the spotlight and give him some semblance of a normal life growing up. But now he is grown up and the things Burke has said about JonBenét as a child and is saying now are finally out in the open.
"I know people think I did it, that my parents did it. I know that we were suspects."
Burke said this in the upcoming three-part Dr. Phil interview, regarding the suspects in JonBenét's murder. It's no secret that there was a lot of public scrutiny surrounding both Burke and his parents, even though Patsy died in 2006 of ovarian cancer, but in 2008, the Ramseys were cleared on all suspicions and have never been charged in the murder of JonBenét.
Regarding the allegations and public suspicion, L. Lin Wood, Burke's legal representation, gave Romper the following statement.
"In May of 1999, the Boulder District Attorney and the Boulder Police Department publicly confirmed that Burke Ramsey was not a suspect or even a possible suspect. Any statement conveying that this young man was involved in the brutal murder of his sister - his life's best friend - is unquestionable false and defamatory. Conveying this false accusation for TV ratings is unconscionable and will result in litigation in the future as it has in the past. There is no legitimate journalistic or First Amendment value in broadcasting false accusations against Burke."
"I thought JonBenét was gonna be there, I thought they found her, so I came in excited, almost relieved. Then my dad told me that JonBenét was in heaven."
During his 1998 police interrogation, which took place two years after JonBenét's murder, Burke's interview was recorded and recently released. He spoke about hearing commotion in the house the morning following the murder, but he was too afraid to get out of bed. He describes the next morning of going with his parents to a friend's house, thinking that when they arrived, JonBenét would be there.
"I want to honor her memory by doing this interview."
Burke told Dr. Phil that his reasons for speaking out about JonBenét now are to honor his sister 20 years after she was discovered missing and then found murdered in their family's Boulder home. Although there were suspects at the time, no one has ever been charge with JonBenét's murder.
"I don't want anyone to forget."
December of this year will mark exactly 20 years since JonBenét's murder and as different docu-series and interviews are being aired, it's in the hopes that new DNA evidence advancements and technology can help in uncovering new information that could help in solving the case, even after so much time as passed.
Burke will appear in the first of three parts of his first televised interview on Dr. Phil on Monday, Sept. 12.