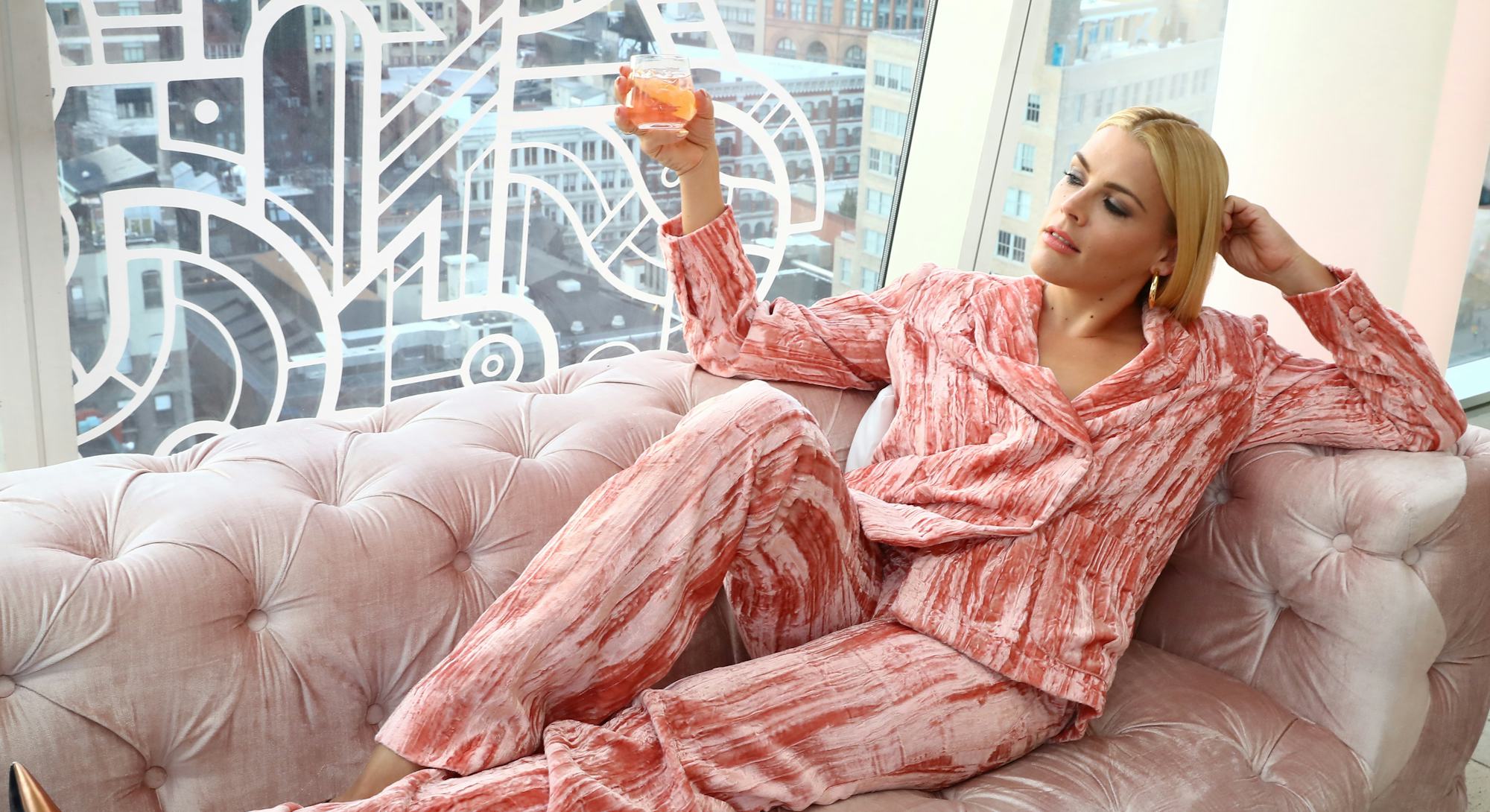 Astrid Stawiarz/Getty Images Entertainment/Getty Images
Busy Philipps Wants To Hold Your Crying Baby — EXCLUSIVE
"I do love holding babies, even when they're crying in my arms," Busy Philipps, the actor, author, and virtual best friend to one million followers on Instagram — many of them moms — tells Romper by phone.
Her fondness for taking the crying babies of her friends and snuggling them has been documented. "I've been a BABY WHISPERER FOR YEARS. #fbf 2007," she wrote in an Instagram post that showed her holding her friend Christine Battaglia's baby. (The screaming, she says, doesn't bother her: "I love holding babies and sometimes they don't love me back.")
Across her Instagram feed, Philipps works her way through hugs with her daughters, her bestie Michelle Williams, her friends, her friends' babies, and of course her husband, screenwriter Marc Silverstein. She has room, seemingly, to care for everyone, even as she leaps frantically from early-morning LEKfit workouts to her mom duties to work — she is currently calling from the set of a photoshoot, but can be seen day to day singing, plugging the work of fellow artists, and hammering away on her book. She also shares candid paparazzi photos, on-brand selfies of herself drinking rosé and margaritas, and weakly triumphant pics of herself recovering from sinus surgery — for Philipps, it is all grist for the mill; grist you might use to, I don't know, make pancakes.
Her endless enthusiasm for living life out loud has, however, led to a depleted fridge, she says.
"I will be using Instacart when I get home to order milk and cheese," Philipps announces. "This morning when I was trying to get my kids out the door to summer camp, I was like, 'Oh, there's nothing to feed them except a bagel that is two weeks old.' But that's how it is when you're living your life and working, you know?"
Philipps is not above feeding her children, Birdie, 9, and Cricket, 4, frozen pizza. It is a moral guidepost that has led to the day's announcement of her #NeverFlySolo partnership with Red Baron pizza, which launched with a giveaway of free groceries and delivery from Instacart to 5,000 parents willing to share their summer war stories on Red Baron's Facebook page. (It is a shame I could not enter; my 18-month-old son peed on my 3-year-old daughter's bed last night after his bath.)
I can't tell you, like, 'Enjoy it, it goes so fast!' That is definitely true, but in that moment it's not helpful.
"I think every mother has a war story, especially in summer time," Philipps says. "There's traveling, and your kids are on summer break from school, and there's more opportunity for mess and mayhem."
There is mayhem, yes, but Philipps somehow makes it look fun.
It was this joyful if chaotic look at life and motherhood that hooked so many followers, and has ultimately led to a memoir, This Will Only Hurt A Little, out October 23 from Simon & Schuster's Touchstone imprint. "You have a lot going on at once," I observe. "Yeahyeahyeah!" she responds.
I think it is hard especially with your first kid to reach out and try to make friends.
It seems apparent that Busy Philipps is a very good mom; she is constantly playing with her children, they all seem in on the joke, she gets them. But when pressed for the advice she might pass on down to newer moms, she's wary of doing so.
"It's really just hard to give advice to any new mother because truly you're going to have your own experience, and there's so much that's overwhelming," she says, recalling the 3 a.m. cries of a newborn. "I can't tell you, like, 'Enjoy it, it goes so fast!' That is definitely true, but in that moment it's not helpful."
As a mother a few years down the line, however, she can promise that some things do get easier. Even the ebullient TV BFF known for playing characters with wispy thin personal boundaries found that making friends after having a baby was a little tricky. "I think it is hard especially with your first kid to reach out and try to make friends," she says, "And for me, when Birdie was born, which was a long time ago, I did some baby yoga, some baby classes ... and that helped me make some mom friends and some community that way."
Today her kids are in pre-K and elementary school — a much cruisier time for making mom-friends, Philipps says. "Once your kids get into school, you're going to meet other kids and other moms, and that's going to get a lot easier."
Philipps recently put her youngest child, Cricket, on the school bus for the first time to send her off to kindergarten summer camp. She and five other parents helped their kids onto the bus, then followed the bus in their cars and met their kids at school to walk them in and meet their teachers. It's a great metaphor for her hands-on approach to motherhood: being with your kids, and helping them expand their comfort zone inch by inch, even as you hover at the margins with your iPhone, ready to encourage them and/or snap a photo. She sees motherhood as a similar adjustment.
"I do think something we do as new moms is panic in public when [you] see a baby crying," she says, but "it's a part of life."
Many who follow her goings-on first connected to her character Audrey on Dawson's Creek, or Kim Kelly on Freaks and Geeks, but others have been drawn by Philipps' openness around her experience with anxiety, and with her efforts to reduce the stigma around mental illness in general. Panic may be a given, but Philipps has charted a way to acknowledge it, surface it, and deal.
And for those moms out there in the cone of a screaming baby, she knows just how to help.
"If you have a friend who isn't a mother who can help out," she says, "it's amazing you can do that for your friend."
Philipps doesn't need to tell me twice: give me that screaming baby.