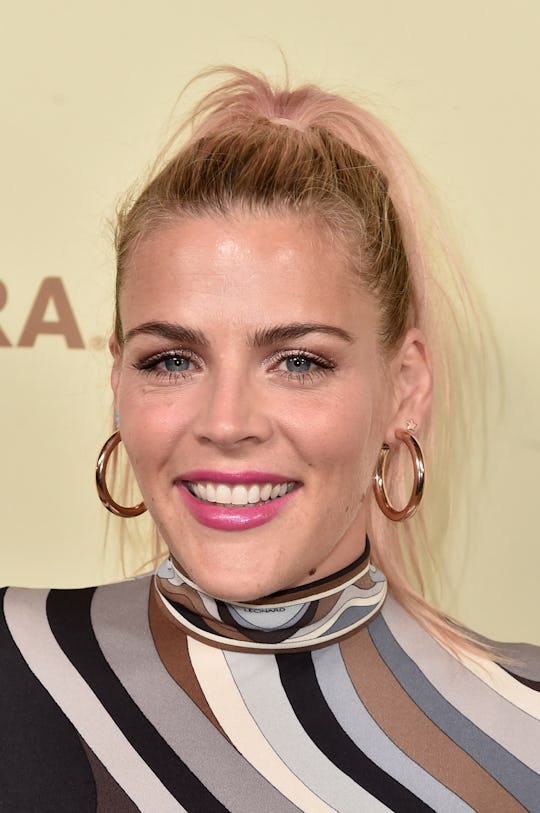 Alberto E. Rodriguez/Getty Images Entertainment/Getty Images
Busy Philipps Reveals She Was Raped At 14 In A Heartbreaking, But Powerfully Poignant Post
On the same day as Christine Blasey Ford testified before a Senate Judiciary Committee on her allegations of sexual assault against President Donald Trump's SCOTUS nominee, Brett Kavanaugh, one actress posted a stunning personal message. On Thursday, Sept. 27, Busy Philipps revealed she was raped at 14 years old in a heartbreaking, yet simultaneously powerful post on her Instagram account.
Phillips posted a photo of herself at 14, looking as fresh-faced and happy as can be, but the caption told a different story. "#tbt This is me at 14. The age I was raped," she wrote on Instagram. "It's taken me 25 years to say those words."
Phillips' post seemed to be a response to tweets and comments accusing Ford of somehow fabricating her story because she didn't report it at the time she said it happened. President Trump himself tweeted, according to CNN, "I have no doubt that, if the attack on Dr. Ford was as bad as she says, charges would have been immediately filed with local Law Enforcement Authorities by either her or her loving parents."
But Phillips had something to say about those kinds of accusations. "I finally told my parents and sister about it 4 months ago." In support for Ford she added, "Today is the day we are silent no more. All of us. I'm scared to post this. I can't imagine what Dr. Ford is feeling right now."
There are countless reasons why victims of sexual assault and harassment don't report right away, and it's not uncommon to do so, according to Psychology Today. Licensed therapist Beverly Engel cited reasons like shame, denial and minimization of the assault, fear of the consequences, feelings of hopelessness and helplessness, low self-esteem, and a history of being violated as reasons why a victim might not disclose, according to Psychology Today. Additionally, CNN reported that loss of privacy, fear of slander, and a fear that their past will be open to debate are also factors.
In Ford's case against Kavanaugh, the president has attacked and questioned her story on more than one occasion. "Why didn't someone call the FBI 36 years ago?" he asked, as The Daily Beast reported. Kavanaugh has firmly denied all allegations, according to NBC News.
For many people the #MeToo movement and the Kavanaugh hearings have been the last straw and many are providing an emboldening solidarity. Recently a new hashtag has appeared on social media as people tell their stories of #WhyIDidntReport. Alyssa Milano, Padma Lakshmi, and Lili Reinhart are just a few of the celebrities that have come forward to support Ford by telling their own stories of assaults they hid away from scrutiny, according to People.
"I was 7 the first time I was sexually assaulted. He was a relative of my mom's second husband. I told my folks and they sent me away," Lakshmi wrote on Twitter.
"Hey @realDonaldTrump, Listen the f– up. I was sexually assaulted twice. Once when I was a teenager. I never filed a police report and it took me 30 years to tell my parents," Milano tweeted, adding, "If any survivor of sexual assault would like to add to this please do so in the replies. #MeToo."
In response to Thursday's post by Philipps, celebrities and fans alike have rushed to the comments section to share their support. Aidy Bryant, January Jones, and Sophia Bush kept things simple by sharing heart emoji. Others wrote of their support. "You are brave. You are loved," Katie Couric replied. "I love your spirit, your honesty, your strength," Leslie Bibb posted. Angela Kinsey encouraged, "Sending you love and healing Busy. Your bravery will help others. I love you!"
Philipps' revelation on Thursday was heartbreaking to learn. Dr. Ford's story was heartbreaking to learn, and so has every other woman's to come forward since. And, hopefully, these survivors' courage and honesty will enact some much-needed change and ignite both healing and justice.
If you or someone you know has been sexually assaulted, call the National Sexual Assault Telephone Hotline at 800-656-HOPE (4673) or visit online.