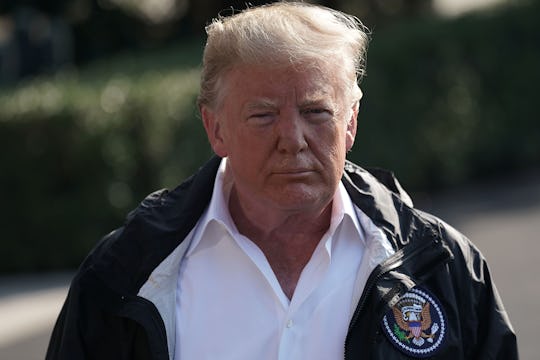 Alex Wong/Getty Images News/Getty Images
Celebrities Are Using #WhyIDidntReport To Protest Donald Trump
President Donald Trump seems to think he knows a thing or two about sexual assault. Not as a man who has been accused of misconduct in the past, of course, he appears to have forgotten about that issue entirely. No, Trump is so confident that he knows how a woman would deal with the trauma of sexual assault that he felt he should tweet about it, of course. In his view, women who have been assaulted always report it right away. Uh huh. In a clear attempt to ensure the president understand he is woefully uninformed, these stars are using #WhyIDidntReport along with other sexual assault survivors to educate him.
Romper has reached out to the White House for comment and is awaiting a reply.
Trump decided it was a great idea to lash out at Dr. Christine Blasey Ford on Friday, a woman who has accused Supreme Court justice nomination Brett Kavanaugh of sexually assaulting her when the two were in high school in Washington D.C. Being a man who likes things to go his way all the time regardless of the consequences, Trump is in a right fury that the Kavanaugh's Supreme Court confirmation is being held up... by a woman, no less.
After trying to hold it together and stay (comparatively) quiet about the accusations, Trump decided to unleash his frustration on Dr. Blasey on Friday. Insisting that, "if the attack on Dr. Ford was as bad as she says, I have no doubt charges would have been immediately filed with local Law Enforcement authorities."
So let's be clear about something here; most women never, ever report their sexual assault. A full two-thirds of cases go unreported, according to RAINN. Perhaps the President of the United States could have done a quick Google search in the middle of his tweeting to check.
His presumptuous tweet sparked a new hashtag, #WhyIDidntReport from thousands of women across the internet who wanted Trump to know exactly why they didn't report. Stories of high school students who were too afraid of their parents' reactions and grown women who felt no one would believe them.
Some reported being attacked multiple times without ever once reporting the attacks.
Some celebrities also shared their own stories of why they didn't report when they were sexually assaulted. Something which no person should ever have to explain to anyone, least of all the President of the United States.
Actress Lilli Reinhart shared her story, as did one of the founders of the #MeToo movement, Alyssa Milano.
Top Chef host Padme Lashki explained why she didn't feel she was able to report her sexual assaults... any of the three times she was attacked.
And just in case Donald Trump feels like he is completely above the law here, one of his accusers, Ohio politician Rachel Crooks, tweeted why she didn't report it when he allegedly forcibly kissed her in Trump Tower.
There are so many reasons why women don't report their sexual assault. And while we don't have all of the facts of Dr. Blasey's allegations against Brett Kavanaugh, we do know that she and her family have been forced to go into hiding because their lives have been threatened since her name was published.
If that doesn't prove to you that women never feel safe enough to report sexual assault, I don't know what will.