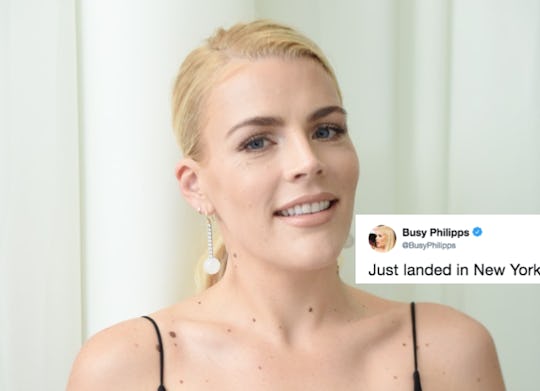 Vivien Killilea/Getty Images Entertainment/Getty Images
Busy Philipps Shared An Update On Her Kid's Missing Teddy Bear & It'll Make You Cry Happy Tears
Busy Philipps Instagram Stories are pretty great on the regular, so her videos from her Hawaiian vacation with her family were totally epic. Which is why some of her followers were shocked when she posted an Instagram Story upon her return totally in tears about the fact that her daughter left her stuffed animals behind in the hotel. Luckily, Philipps shared an update on her daughter's missing teddy bear saga and it fortunately has a happy ending. Sort of.
In case you totally missed it, Philipss has two gorgeous daughters, 9-year-old Birdie and 4-year-old Cricket, and getting them out of the hotel on Easter morning was no easy feat, as you can imagine. Philipps said she was running around trying to get everything together but didn't notice until she opened her girls' bags to start unpack for bedtime Monday night that Birdie's two favorite stuffed animals, a bear named Radar and another one named Flat Bear, were missing. She said it felt like a "total parental failure" since she could basically imagine just where they were — tangled up in the hotel bed sheets.
Making things even worse, Radar was actually Philipps' own when she was a little girl, the actress explained in subsequent Instagram Story installments and Birdie had just done a school project of some sort about how it was her fave toy because it was her mom's once upon a time. I mean, if that doesn't break your heart, you're totally evil. Philipps knew they were *just* toys, but the stress of "failing" her kid was real.
So Philipps went into Mom Mode and called the hotel, who hadn't seen the bears but knew that the sheets were being laundered somewhere off site, adding another element to the chase. Luckily, Philipps' friend Norah Weinstein and her kids were still at the hotel, so she sent them to go hassle the desk manager and even knock on the door of the room and ask the new guests if she could peek under the bed or behind the headboard in the off chance that the cleaning ladies didn't notice the two bears.
She even posted a picture of the bears on Instagram just in case anyone at the hotel might have seen them. Like, Philipps hardcore did everything she literally could do.
There was no good news on the bears for about a day and actually, Philipps seemed to be coming to terms with it. Then, on Tuesday night, she had the happiest update: Radar had been found!
Flat Bear is still MIA, but as Philipps said in her update Story, they're still available in stores so she could replace him. And Radar was the family heirloom after all.
Seriously, I Cheered Out Loud When I Saw This Update
Look How Cute He Is
In a separate Instagram post, Philipps thanked her friends and everyone at the hotel and laundry service that chipped in to help, including people on social media who shared their own stories about letting their kids down by losing toys. People are good sometimes, right?
Just judging from her posts, it looks like an employee from the laundry found the bear, then contacted Philipps, and then made sure it got back into the hands of her friends, who can deliver the little guy straight into Birdie's little arms.
Apparently, the friends were taking a private or small plane and were even able to document Radar's adventures home, as he posed with the pilot. This story just gets cuter and cuter, huh?
I was not the only person (thank goodness) entirely invested in Philipps finding her daughter's bear. People said things like, "Hooray for Radar!!" on the Instagram post. Another person wrote, "I cannot believe how emotionally involved I've gotten following the search for the bears... so relieved you found Radar! #FindFlatBear."
Another mom wrote, "I actually cried happy tears. My sons panda went missing a few years back and it was the worst mom moment ever. Now let's #findflatbear prayers for Bears." This story seriously resonated with people. Another commenter added, "That's huge... left my daughter's first bunny at Disney years ago and cried for 2 days... I cried ....hope flat bear is found...."
Sadly, Philipps posted the update after landing in New York City for work, so she might not be able to be there when Birdie and Radar are united. I'm crossing my fingers that her husband, screenwriter Mark Silverstein, will take a video or pic that she can include though because this emotional bear saga is not over until Radar is chilling at home. You hear that, Mark? I'm waiting with bated breath.
All in all, this is a very happy conclusion to the bear drama. I'm sad that Flat Bear is still in Hawaii, but hopefully he'll be found and delivered to Birdie, too. Just knowing that an entire team of people went to work trying to make a mom's life easier is making my heart burst. #FindFlatBear.
Check out Romper's new video series, Bearing The Motherload, where disagreeing parents from different sides of an issue sit down with a mediator and talk about how to support (and not judge) each other's parenting perspectives. New episodes air Mondays on Facebook.