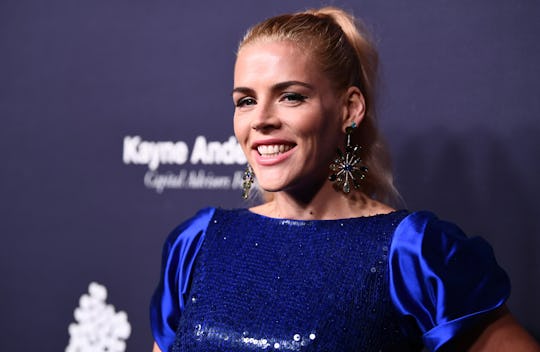 Emma McIntyre/Getty Images Entertainment/Getty Images
Busy Phillips' Mother's Day Post Is Important For This One Reason
For many people, Mother's Day is the perfect excuse to spend quality time with their mom and tell them how much they appreciate them. But for people with more complicated relationships with their mother, it can be a tricky day to navigate, if it's even acknowledged at all. Which is why Busy Philipps' Mother's Day post celebrating her own mother is so important — not everyone has an easygoing, loving, or healthy relationship with their mother.
Philipps, who just announced that she's getting her own late night talk show on E! next year, posted an old picture of her mother holding her as a baby. The actress wrote, "My mom is rad. She's complicated, of course, most moms are. Our relationship hasn't always been easy on either one of us." Philipps added that after she had Birdie, now 9 years old, she called her mom "sobbing."
She explained that she called her mom to say that she was "so sorry." The former Dawson's Creek star added, "I just didn't understand how much she loved me, and how hard it must have been for her, and that I hoped she forgave me for all my horribleness. I couldn't really understand though, not until I had my own baby staring at me and needing me that my mother was a person first."
Philipps added this realization helped her understand her mother more. She wrote:
My mother is so many things, and I've been lucky enough to have her this whole time, so that our relationship can change and I can understand her more as a human and a woman, independent of her designation as MY MOM. But ultimately, I'm so grateful she is MY MOM because you know, obviously, I wouldn't be here typing this if she weren't.
Not everyone has the easiest relationship with their mothers, or any of their parents, which can make holidays like Mother's Day so difficult. But anyone with a toxic, or "complicated" relationship with their parents would be right to take Philipps' message to heart and remember that they likely aren't the only people on the planet right now not having a big, happy brunch with their moms this weekend. And that's OK.
It's also always important to remember that moms, or any parent, are just other people with their own stories and reasons for doing things. That's not easy for kids to remember when they're teenagers and battling about curfews or something with their mom. But as you get older, it's easier to understand that every parent usually has their kids' best interests at heart, even if it ends being expressed in a way that strains the relationship later on.
Actually, Philipps' attitude about Mother's Day is all-around on point. She posted a video earlier this week calling for all moms to ditch the Mother's Day brunch tradition. Philipps pleaded, "I just want to be left alone until like, 2 p.m. with just me and a bag of cinnamon gummy bears." Which honestly sounds like a very good plan.
But keeping it low key and being pragmatic about Mother's Day doesn't mean that she doesn't get sentimental at all about her own daughters. On Saturday evening, Philipps posted an Instagram Story while on a plane to New York City without her kids for work. Cricket, 4 years old, had slipped a note into her bag for Mother's Day and Philipps was in tears while reading it with her adoring fans.
Philipps Started Off Saying She Was "Sobbing"
...And Trying To Figure Out What Cricket Wrote
It Took A Few Minutes, As You Can Imagine
Philipps could not be any more relatable as mom, sometimes. Not only does she keep it real about her own relationship with her mom, she also keeps it real about her own kids. Because sure, Cricket's gesture was adorable and totally tear-jerking. But who can ever read a 4-year-old's sappy Mother's Day card? It's not easy. She told People on Friday that she doesn't really want Mother's Day gifts from her kids. The I Feel Pretty star said:
I wait for no one to buy me a gift. I have always subscribed to the treat yourself mentality and if there's something that you want for Mother's Day, you buy it yourself. I don't think there's anything wrong or shameful about buying yourself a gift and then handing it to your husband or your children to give to you. That way at least you know you're getting exactly what you want!
She's got a point, as much as one loves hand painted macaroni necklaces and popsicle stick picture frames. Whether it's gushing over her tot's handwritten card or reflecting on her evolving relationship with her mother, Philipps has definitely observed Mother's Day in her own unique way. Which is why her fans respect and adore her so much in the first place — she keeps it real, no matter what.