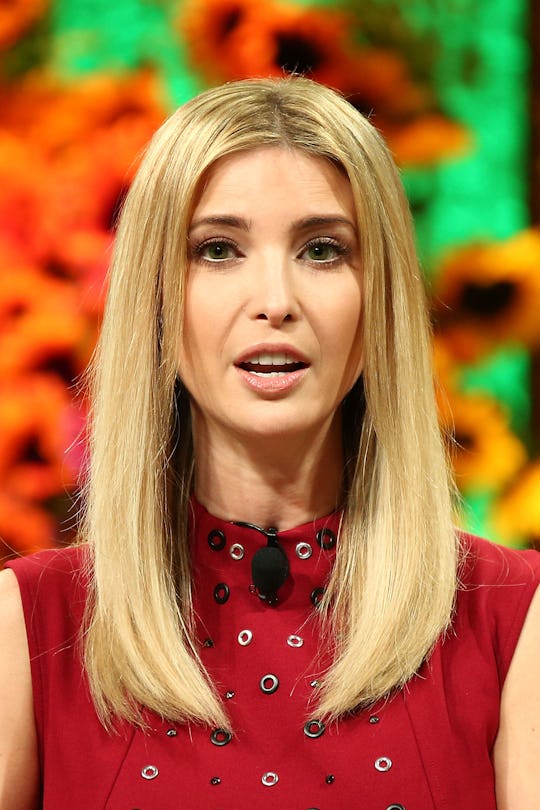 Joe Scarnici/Getty Images Entertainment/Getty Images
BuzzFeed CEO Claims Ivanka Trump Allegedly Used Lewd Language In A Conversation With Him
In the wake of sexual assault allegations against Republican nominee Donald Trump, more and more people who have worked with him and his family seem to be coming out of nowhere and remembering the odd and offensive things they've allegedly said. Most recently, Jonah Peretti, Buzzfeed CEO, claimed Ivanka Trump made lewd comments to him in a working conversation. Peretti alleged in a tweet on Wednesday that he was taken aback when Trump's daughter said she was surprised by her father's lewd comments caught on a hot mic in 2005 during an Access Hollywood appearance. Peretti tweeted, "Surprised Ivanka would be shocked by lewd language. I met her once & she casually said: 'I've never seen a mulatto c--k, but I'd like to.'" The Trump camp did not immediately return Romper's request for comment.
In a statement to Buzzfeed, however, Ivanka denied that she had ever said such a thing. According to Buzzfeed, she said, "I am not sure if this was meant to be a joke, but in case there is any ambiguity, this is a complete and total lie." Much like her father's comment that he would "grab [women] by the pussy," saying something like "mulatto cock" is also a pretty jarring turn of phrase. What kind of conversation were the two professionals having that that comes up?
Peretti told his reporters that it all went down at a dive bar in Manhattan called Tropical 128 almost a decade ago. Peretti alleges that Ivanka was there as a guest of a mutual friend, along with his wife Andrea Harner, and a two or three other people. "She was saying how she first said she had never seen an uncircumcised cock and then she said, 'I've never seen a mulatto cock. There's lots of cocks I've never seen,' or something like that," Peretti told Buzzfeed.
He added that he and wife, who has corroborated the story, have joked about it throughout the years. "It was memorable just because of the use of the lewd language and racist language. It was also memorable being in the environment of being… in New York, sometimes liberal and progressive people make comments meant as jokes and not necessarily earnest. I didn't know how to take it," Peretti said.
Peretti's wife confirms his story and other people present that night have confirmed that the event took place, but wouldn't confirm further. Maybe because they were at a dive bar and things get fuzzy. A lot of things get fuzzy late at night in Manhattan over drinks and people can say terrible things. So why does it matter what rude and racist thing Ivanka might have said?
There's a simple answer to that, according to Peretti's backers: because Ivanka's defending her father who is being accused of making lewd comments throughout his career. She said of her father's comments about grabbing pussy at a Forbes summit last week, "That's not language consistent with any conversation I've ever had with him, certainly, or any conversation I've overheard. So it was a bit jarring for me to hear."
Ivanka's brother, Donald Jr., has also made rude, insensitive, and racist comments in radio interviews over the past few years, according to a CNN KFile report.
Maybe the two eldest children have never spoken with their father using that sort of language. Maybe Ivanka never said joked about male genitalia at all. It's not confirmed whether or not Ivanka did say whatever Peretti claims she said, with friends at a bar or with her father. But if Peretti's allegations are true, it only means that one more member of the Trump family is a little careless at times with their words when they think they're in a safe place — whatever implications that may have for the campaign or otherwise.