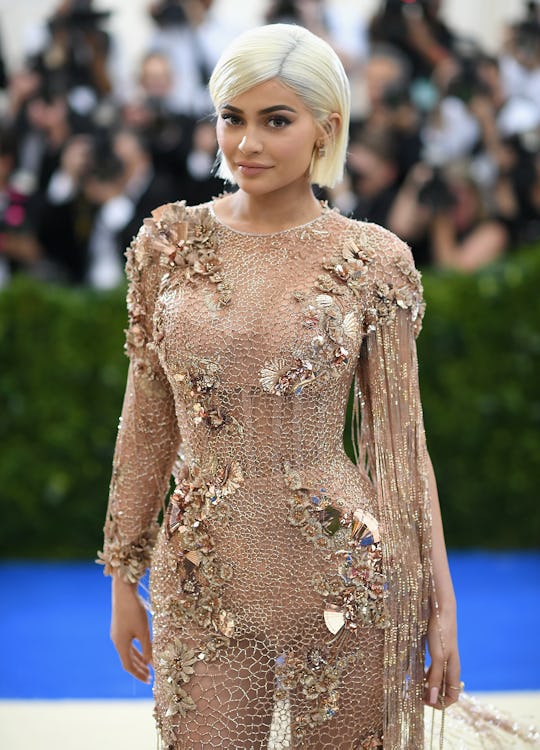 Dimitrios Kambouris/Getty Images Entertainment/Getty Images
Kylie's Birthday Brought Caitlyn Jenner & The Kardashians Back Together
The Kardashian-Jenner clan might be well-known for their drama-filled reality TV feuds on Keeping Up With The Kardashians, but it seems they at least have no issue burying the hatchet when it comes to celebrating special occasions. Case in point? Caitlyn Jenner and the Kardashians reunited for Kylie's epic 21st birthday bash Thursday, and though that probably doesn't mean that all is forgiven and forgotten, it's pretty awesome to see that they've all made a point to rally around the youngest KarJenner on her big day.
The famous fam has long proven that they know how to throw some seriously impressive parties, so it's not exactly a surprise to see that Jenner went all out for her 21st. And, in true Kardashian style, the details were captured pretty extensively on social media. On Instagram, Kim shared a variety of clips from the glittery pink bash, which was filled with celeb guests, and even included a pretty incredible all-pink ball pit. And of course, the ladies rocked some seriously glam looks for the event (both Kim and birthday girl Kylie went full Barbie-pink, while Kourtney, Kendall and Khloé stuck with sequins). But, eagle-eyed followers noticed that, it wasn't just a sisters-only affair — Kris Jenner, Kanye West, Scott Disick, and yes, even Caitlyn, were also welcomed into the inner circle.
To be fair, it doesn't exactly seem like Caitlyn was feeling super comfortable about being at the party — or at least, not super comfortable about being around the Kardashian fam. But it's still a pretty sweet gesture that Kim included her when she filmed "the whole gang" for a clip shared on Khloé's Snapchat: just ahead of one seriously cool looking pink balloon drop on the crowd, Kim panned the camera to show Caitlyn standing nearby.
And honestly, that sounds like a pretty big deal. Although Caitlyn remains close to her daughters, Kylie and Kendall, she told the Cambridge News in Nov. 2017 that things had "been a little bit tough over the last couple of years on the Kardashian side," according to People, and that she hadn't actually spoken to Kim in "over a year." And things were even more tense with Khloé: in a 2017 interview with Piers Morgan, Caitlyn said she hadn't spoken to Khloé in two years, and in a Mother's Day post Caitlyn posted in May for all the "amazing moms in [her] life," Caitlyn gave a shoutout to Kylie, Kris, and Kim, according to Us Weekly, but new-mom Khloé was notably absent.
The big issue that seems to have caused the rift? It seems things turned sour after the release of Caitlyn's memoir, Secrets of My Life, in which she discussed her decision to have gender confirmation surgery — a detail she chose to keep from the Kardashians because she "didn't trust them" not to leak it to the press, according to People. Caitlyn also wrote that Robert Kardashian had once told her he thought O.J. Simpson was guilty, a claim that prompted Kim to call her "a liar" and "not a good person."
Despite the strained relationship though, it seems as though they were all at least attempting to show a united front for Kylie's benefit, so while it couldn't have been a super comfortable night for her, Caitlyn did make an appearance at the super lavish party — alongside her rumored girlfriend, Sophia Hutchins, according to The Daily Mail.
Family drama aside, the party looked like an incredible night for Kylie, and like a pretty great way to mark the end up a seriously-impressive year: at only 20 years old, Kylie not only became a mom for the first time, but she also nearly reached billionaire status, thanks in part to her enormously successful beauty line, Kylie Cosmetics by Kylie Jenner. And while it's anyone's guess what's to come for the mogul in the year ahead, if her birthday party is any indication, she's already off to a great start.