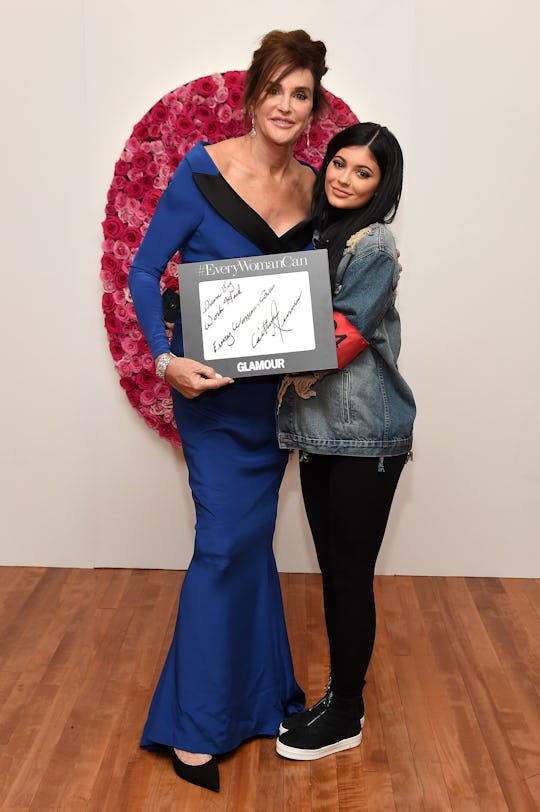 Nicholas Hunt/Getty Images Entertainment/Getty Images
Caitlyn Jenner's Reaction To Kylie's Pregnancy Was Seriously Old-Fashioned
I think it's probably safe to say that every parent has some expectations for their kids, unrealistic or not. But the thing is, your kids grow up and become their own individual people and you start to understand that their life choices are theirs to make, not yours to judge. This is the way I think it's supposed to happen, at any rate, but of course it doesn't always turn out like that. Even for famous kids like Kylie Jenner. Caitlyn Jenner's reaction to Kylie's pregnancy was shockingly old-fashioned considering it's 2018, not 1918.
The former Olympian recently spoke to ITV's Loose Women about learning her youngest daughter, Kylie Jenner, was expecting her first child last year. Now keep in mind that Caitlyn Jenner has struggled to stay close to her family in recent years. She has been quick to point the finger of judgment at ex-wife Kris Jenner and her older daughters, Kim, Khloé, and Kourtney Kardashian, leading to her estrangement from much of the family. Her daughters Kendall and Kylie Jenner remain in contact with her, so one might think that Caitlyn would be extra cautious about the sort of information she divulges about her family to the general public.
Not so much.
Caitlyn told Loose Women that she Kylie was nervous to tell her she was pregnant because, get this, she wasn't married. But it's okay, guys, she's allowed to get pregnant out of wedlock because she has lots of money to take care of the baby, according to Entertainment Tonight:
She's always wanted to be a mom. When she called me up, it was a little bit tough for her because obviously she's not been married, but fortunately, she's in a position where she can have a child and the child will be very well taken care of.
This strikes me as shockingly old-fashioned. But it actually gets worse. She also went on to admit that she would have preferred Kylie wait to have children until she was 29 like she did... and I guess everything worked out oh-so-perfectly for her? According to E! News Caitlyn said that while she always knew Kylie wanted to start her family young, she believed "you're better off waiting and there's no rush. I had my first child at 29 and I kind of had everything done."
I was a young mom like Kylie Jenner was when she gave birth to daughter Stormi Webster in February, but without the money and the stuff. I don't think that gives me a right to dictate to my children about the sort of choices they're going to be making as adults or parents. Because, much as Caitlyn Jenner doesn't want to be judged for choices she has made in her life, I doubt Kylie Jenner is here for judgment either. So what if she's not married? So what if she's young?
Caitlyn Jenner really needs to check her judgment at the door, especially if she hopes to have a close relationship with any of her children. Especially if she's going to be blabbing in public. After all, Kylie supported her as she transitioned to becoming a woman a few years ago. She should try to be as accepting and understanding as her young daughter.