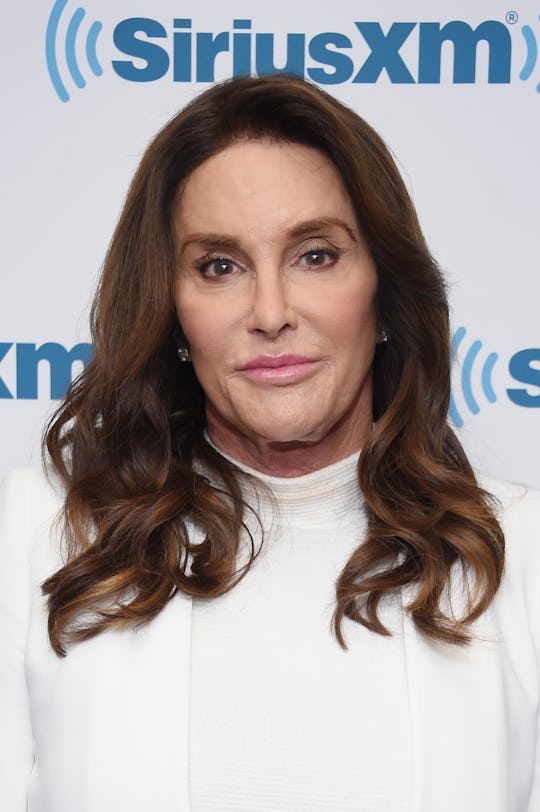 Dimitrios Kambouris/Getty Images Entertainment/Getty Images
Caitlyn Jenner's Response To Trump's Transgender Military Ban Is Hotly Awaited
Reality star and LGBTQ advocate Caitlyn Jenner has been a longtime supporter of President Trump. Despite significant evidence to the contrary, Jenner has insisted vehemently in the past that Trump will be a champion for LGBTQ rights. Her continued support of the president had many taking to Twitter to see Jenner's response to Trump's transgender military ban.
Romper has reached out to Caitlyn Jenner for comment and is awaiting her reply.
Update: Caitlyn Jenner released a full statement in addition to her social media statement on her website. The full statement can be read here; below includes a short clip of her response.
President Donald Trump tweeted this morning that transgender service members will no longer be allowed to serve "in any capacity" in the U.S. military. Studies estimate there are as many as 15,000 transgender people already serving this country – and for those brave people fighting for our nation, Trump's early morning tweets must be devastating. I believe every American should be outraged by the disrespect shown to those people wearing our country's uniform. Furthermore, this half-baked idea puts all of our service members in harm's way. Does President Trump intend to just pull 15,000 people out of every critical position to which they are currently assigned? That would disrupt core military missions around the world and needlessly endanger our troops.
Earlier: On Wednesday morning, President Trump took to Twitter with a series of tweets announcing that transgender people would no longer be accepted into the United States military service. Trump tweeted that "the United States government will not accept or allow Transgender individuals to serve in any capacity in the U.S. military." He went on to justify this decision, which flies in the face of his campaign promise to be an advocate for LGBTQ rights, as being too cost prohibitive for the military budget. Which, coincidentally, is where his proposed budget would be funneling the majority of tax payers' dollars (Trump has requested a whopping $603 billion for military spending in 2018, according to CNN). He pointed to his despite the fact that a 2016 Rand Corp. study commissioned by the Department of Defense found that trans people's medical costs and presence would have a "minimal" impact on the military's budget and readiness.
While Jenner, a lifelong Republican, has not publicly responded to Trump's military ban of transgender people, critics of Trump's recent policy decision have been eagerly awaiting her reply. Particularly considering Trump's promise at the Republican National Convention to be a friend to the trans community.
That promise to "fight for" the LGBTQ community a year ago, before he was elected president, is clearly a far cry from today. Trump's military ban on trangender people is in direct opposition to the Pentagon's previous decision in 2016 to allow openly transgender people to serve.
Caitlyn Jenner, arguably one of the more high profile celebrity advocates for transgender rights, has been public in the past with her reported attempts to affect change within the Republican Party. She has admitted that the Democratic Party is "better on all LGBT issues," according to USA Today, and sat down with Trump for a conversation when he reversed Title IX guidelines that had put protections for trans children in schools in place. As she told USA Today:
I would try to enlighten President Trump or anyone about transgender rights that these are real issues because these are real people suffering. The President and so many people out there haven't taken the time to meet or get to know a transgender person. They don't know the community. It's affecting so many people beneath everything.
But how does she feel about the military ban against trans people? Social media is desperate to find out.
And after a few hours of waiting, Caitlyn Jenner has issued her response to Trump's military travel ban.
Jenner was clearly disillusioned by Trump's ban, after his promises and her months of supporting him despite serious backlash. She voted for him, had faith in him, and expected great things from him. And now... he has turned his back on her.
As he has turned his back on the transgender people of America who are already fighting to serve their country.