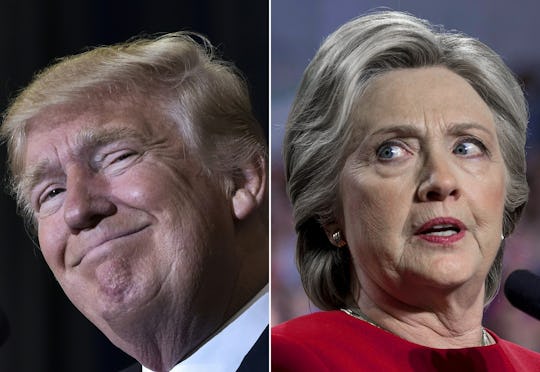 MANDEL NGAN/AFP/Getty Images
California Legalizes Weed, & The Timing Is Appropriate
Well it's perfectly possible that Nov. 9 will be the dawn of a new day. And it's perfectly possible that new day won't be looking so rosy to all of us. But here is some good news; California has legalized weed and it is literally just in time. As GOP presidential candidate Donald Trump continues to shock the country with his strong showing in the general election polls across the country let's face it... we're all going to need a little something to help us relax. To help us try to wrap our heads around the distinct possibility that Democratic presidential nominee Hillary Clinton, the first woman to be a presidential candidate in the history of America, could lose the election to failed New York steak salesman Donald Trump. I think a little weed could go a long way to helping us deal, guys.
There were nine states to offer ballot initiatives in Tuesday's election with one goal in sight; legalizing marijuana. California, Massachusetts, Arizona, Maine and Nevada all offered ballots to voters interested in having their say on the possible legalization of transporting, growing, and selling marijuana. Arkansas, Florida, Montana and North Dakota were voting on the distribution of medical marijuana.
In California voters turned out in higher numbers than expected to vote for Proposition 64 (Question Four), which would make the use of recreational marijuana legal for those 21 years of age or older. California was the first of the states to pass the legalization of marijuana with a majority vote on Tuesday.
If Donald Trump does become president — and as election night wears on, this is looking like a distinct possibility — we are all going to need to focus on the positive. Cupcakes are still a thing, as are puppies and flannel pajamas. And if you are living in California, you will be able to enjoy said cupcakes, puppies, and flannel pajamas even more now because weed.
I'm not going to lie... kinda think it would have been amazing if they had legalized weed on Monday. It would have made watching the election results on Tuesday a whole lot easier and less like this:
California has now joined Colorado, Washington, District of Columbia, Alaska, and Oregon as states that have legalized weed. The state will allow users to have one ounce of recreational marijuana and keep up to six plants in their home, although don't go grab your seeds just yet; it could take up to a year to for the state to issue licenses to authorized dealers to sell weed.
Still, amazing. And we need a little good news right now. Not to mention a little weed.