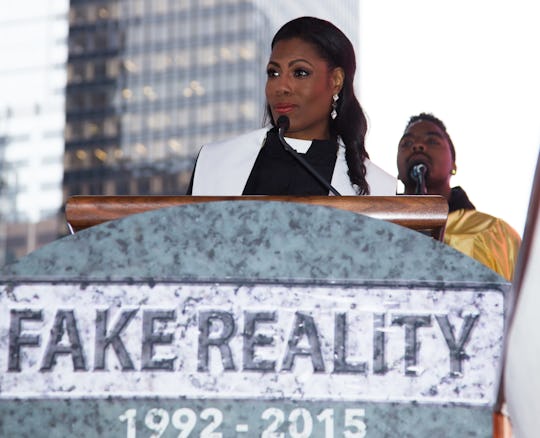 Anna Webber/Getty Images Entertainment/Getty Images
California Kids Set To Learn How To Spot Fake News
Fake news; it's everywhere these days. The mainstream media struggles to get genuine, relevant news heard over the din of sensationalized stories that distract and misinform readers. Because the internet is fast, it's an ever-evolving juggernaut that sometimes defies comprehension. One state, however, has decided to take the bull by the horns. California's "fake news" law is aimed at educating children on becoming more media literate, and it's a step in the right direction.
Democratic Assemblyman Jimmy Gomez from Los Angeles introduced AB-155, a law which would call for educators to provide "civic online reasoning" within their curriculum for students from grades seven to 12. The bill cited research that found young people, in particular, tend to take what they read online as accepted fact, and that:
The inability of young people to distinguish between real news and fake news makes them less informed about important civic issues and poses a direct threat to our democracy.
Gomez released a statement about the importance of educating children on how to tell the difference between real and fabricated news:
Recently, we have seen the corrupting effects of a deliberate propaganda campaign driven by fake news. When fake news is repeated, it becomes difficult for the public to discern what's real. These attempts to mislead readers pose a direct threat to our democracy.
Assemblyman Gomez was not the only lawmaker to put forth a bill to combat the insidious nature of fake news; a second bill, SB-135, was introduced by Democratic Sen. Bill Dodd, looks to implement media literacy into the California state curriculum for students from grades seven to 12. Dodd released a statement about the bill, explaining:
The rise of fake and misleading news is deeply concerning. Even more concerning is the lack of education provided to ensure people can distinguish what is fact and what's not. By giving students the proper tools to analyze the media they consume, we can empower them to make informed decisions.
Dodd's bill pointed to specific research regarding the dangerous effect fake news reporting had on the 2016 presidential election:
During the final, critical months of the 2016 presidential campaign, 20 top-performing false election stories from hoax Web sites and hyperpartisan blogs generated 8,711,000 shares, reactions, and comments on social media; where, within the same time period, the 20 best-performing election stories from 19 major news Internet Web sites generated a total of 7,367,000 shares, reactions, and comments on Facebook.
One of the issues with educating children on how to identify fake news will be coming up with a definition; factually incorrect reporting should clearly be the jumping point for defining fake news. Instead, politicians like President-elect Trump have begun to use the term as a way to dismiss any reports that paint them in an unflattering light. Here's hoping educators find a way to explain the difference between real news, fake news, and news that people just don't want to hear about themselves.