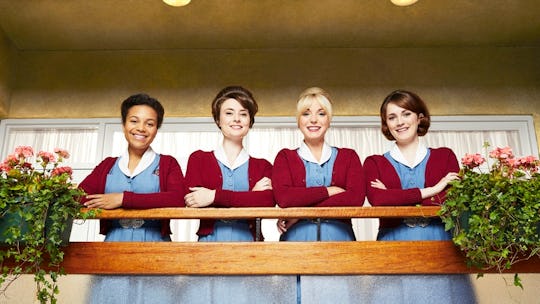 Neal Street Productions
'Call The Midwife' Season 7 Will Soon Be On Netflix
There was a birth, a death, and a wedding in the Season 6 finale of Call the Midwife. A cliffhanger-y season finale, it definitely left fans wanting more and wondering when Season 7 would premiere on Netflix — especially those who rely on Netflix to stream the show. Now that the most recent season has come and gone on BBC One and PBS, Romper can exclusively reveal that Call the Midwife Season 7 will be on Netflix in September. Netflix will unveil the full list of shows and movies coming to the streamer on August 22.
Ahead of the Season 7 premiere on TV, Jenny Agutter, who plays Sister Julienne, spoke to BT TV about what to expect from the newest season of the period drama. "Each year presents something different in the way of problems and social changes," she said. "So, [this season] we have a stripper who gets pregnant. We've got somebody who is very frightened of giving birth, which is a very particular condition."
Fans can also expect a few tear-jerker moments when it comes to the beloved Sister Monica Joan. "I've created a storyline for [actor Judy Parfitt] which is to do with her failing eyesight," Call the Midwife creator and writer Heidi Thomas told the outlet. "That's given us quite a slow journey across the body of this series, because it's realistic. And I love writing about her."
As long as you've avoided spoilers so far, then there's plenty to look forward to on Netflix come September.
Over the show's seven season run, Call the Midwife has covered all kinds of social and political issues relevant to the time period that are still important today. Those topics have included birth control, domestic violence, and female genital mutilation. And every time a new issue is introduced in the show, there are ways that people even today can relate to them. Perhaps this is why the show has done so well and continues to do so well after seven seasons on the air.
Since Call the Midwife premiered in 2012, it has taken home multiple TV Quick Awards in the U.K. as well as several BAFTA awards. In fact, the series has done so well that before Season 6 even premiered, Deadline reported that the show had been renewed for Seasons 7, 8, and 9 all at once. It's not a brand new concept for networks to renew successful shows several seasons in advance, but it does show how much success Call the Midwife has had.
In addition to old favorites, fans can expect to see a new face going into Season 7. Black Mirror's Leonie Elliott plays Lucille Anderson, a new nurse at the Nonnatus House. The Lucille Anderson character was born in Jamaica, and was the first West Indian midwife featured as a full-time character on the show.
While Call the Midwife Season 7 will be on Netflix in September, it first premiered on BBC One on January 21 and the Season 7 finale was March 11. If you're waiting for the show to premiere on Netflix, you may be a little behind the times when it comes to all the action and drama, but you'll be able to marathon all eight episodes in one go. Which means I've got an exciting weekend ahead of me, for sure.