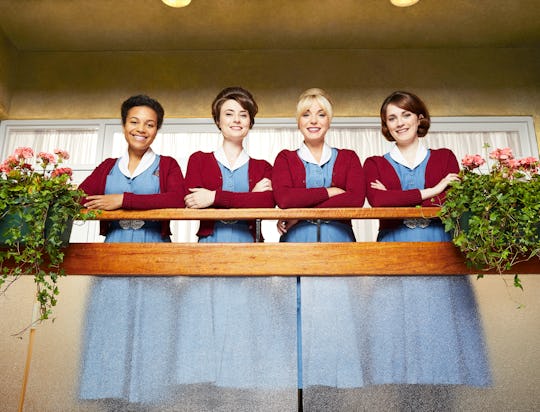 Neal Street Productions
Mark Your Calendars: Here's When 'Call The Midwife' Will Return For Season 8
Call the Midwife is arguably the biggest BBC series that PBS had brought to the United States since Downton Abbey. And now that Season 7 is already coming to a close, fans are going to be asking about when Call the Midwife Season 8 premieres. It seems like just yesterday that the nurse midwives of Nonnatus House were dealing with their first big birthing cases and Chummy was having her first baby, but somehow here we are, seven seasons later. Luckily, Call the Midwife is definitely getting an eighth installment since, according to Deadline, it's been renewed for two more seasons at least.
The medical drama will continue on with eight more episodes and a Christmas special per season, remaining on-air until at least 2020. So what does that mean for Call the Midwife Season 8? Since all of the past seasons have premiered on time around the same date, it's safe to assume that Season 8 will follow the same pattern and premiere on PBS at the end of March 2019. Since the show is an original BBC series, each season premieres on that network in January and ends in March. Then, a couple of weeks later, the new season kicks off on PBS in the U.S.
Thankfully, each season has premiered on or around the same date, so there are no immediate concerns about Call the Midwife Season 8 being delayed in any way. Plus, filming has already begun. Back in April, nearly a month after Season 7 premiered on PBS, the official Twitter account for the show posted a behind-the-scenes photo to announce that filming for Season 8 was already well underway.
Going into Season 8, viewers have plenty to look forward to, and not just the fact that they can count on the series returning in March again next year. Executive producer Pippa Harris told Express that since the show will be around for at least two more seasons, fans can expect to see plenty more from all of their favorite characters in the seasons ahead. "You have the freedom, for instance, to watch the ups and downs of Trixie's [Helen George] romance with Christopher [Jack Hawkins], knowing you can plan it across any number of episodes," she explained.
Since the show is also well into the 1960's now, that means more historically accurate obstacles for the midwives to deal with as they also navigate through their personal lives. But, according to Good Housekeeping, it also means that the midwives will be full of growing excitement over the birth of Queen Elizabeth II's youngest child, Prince Edward, who was born in 1964. And since things will likely pick up where they left off at the end of Season 7, the nurses will also probably still be reeling from the loss of one of their own, Nurse Barbara, who succumbed to meningococcal septicemia near the end of the season.
It's never easy to have to wait an entire year between seasons for your favorite TV shows to return, but in order to really appreciate the characters you've come to love, absence can only make the heart grow fonder, right? Okay, that probably doesn't really work for TV shows, but at the very least, Call the Midwife will be back at all and with the promise of at least one more season after that.
If the premiere dates of the last seven seasons are any indication, fans can expect to see Season 8 around the same date in March 2019 on the same channel and with most of the same lovable characters.
Check out Romper's new video series, Romper's Doula Diaries:
Watch full episodes of Romper's Doula Diaries on Facebook Watch.