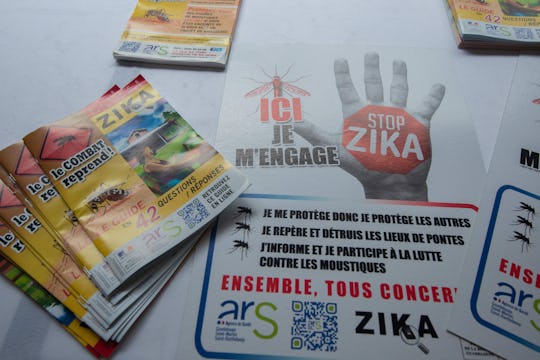 HELENE VALENZUELA/AFP/Getty Images
Can A Condom Stop Zika Transmission? Sexually Transmitted Cases Are Increasing
The Center for Disease Control recently strengthened its travel advisories to countries affected by the Zika virus. After a troubling report from the World Health Organization that the virus could be easier to transmit sexually than experts had originally believed, people are desperate to know if a condom can stop a Zika transmission, particularly since new cases of the virus being transmitted sexually have been reported recently in places like Texas and Florida.
According to the BBC, World Health Organization Director General Dr. Margaret Chan delivered a brief statement after an emergency meeting with the United Nations health agency on Tuesday: "Reports and investigations in several countries strongly suggest that sexual transmission of the virus is more common than previously assumed."
This news has the public understandably nervous about the rapidly spreading virus. Men are the only ones who can transmit the Zika virus to their sexual partners. As a result, the Center for Disease Control recommends using condoms the right way every time you have sex for Zika prevention, especially if you are a man who has lived or traveled to an area where Zika has been found or if you are concerned about getting Zika from a male sexual partner. The CDC website also says that not having sex is the best way to prevent the spread of the virus.
While the disease was originally considered to be largely transmitted by Aedes species mosquitos, scientists are now considering the possibility that the sexual transmission of the disease could be more widespread. The virus is passed through semen, but scientists are still researching how long it can survive in semen. In February, the Dallas County Health and Human Services Department reported a case of the Zika virus being transmitted sexually. On Wednesday, the U.S. was investigating more than a dozen possible sexually transmitted cases.
The WHO has cautioned travelers to avoid areas with known Zika outbreaks, which include mostly the Caribbean and Latin America. Experts are especially warning women who are either pregnant or hoping to become pregnant, as Zika has been linked to birth defects like microcephaly. Microcephaly is a condition where a baby is born with an abnormally small head; in 2015, 574 babies were born with microcephaly in Brazil. Which is more than triple the average number from the year before.
Symptoms of the disease are hard to peg and difficult to diagnose. The disease and its symptoms are similar to dengue and yellow fever. Joint pain, headache, skin rashes and conjunctivitis are common symptoms and can last two to seven days, according to the WHO.
The BBC reported Wednesday that Dr. Anthony Fauci, Director of the National Institute for Allergies and Infectious Diseases, is developing a vaccine for Zika. Fauci told the BBC he hopes to begin human trials by September.
So, for now, be cautious. Use a condom safely, or, if you're feeling unsure, avoid sex altogether.