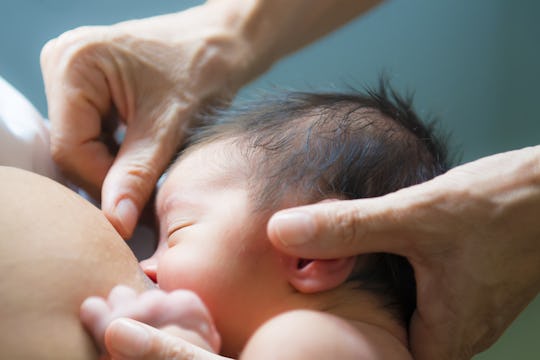 Angel Simon/Fotolia
Here's What You Need To Know About Having A Doula For Breastfeeding Support
Consciously or not, every pregnant person assembles a birth team. Maybe you plan to lean on your partner or other family members, in addition to a doctor or midwife, close friends, and that lady who helped you with your registry. A professional doula can bring a lot to the table, including information, advice, and advocacy throughout pregnancy and childbirth. Postpartum doulas may even help you out with household tasks. But can a doula help with breastfeeding?
BrooklynDoula's Megan Davidson, PhD, explains to Romper that doulas have different levels of training and experience, so it's important to ask what's offered. Interviewing carefully is key to finding the right support person for your birth team.
"All doulas should have a basic competency in chest and breastfeeding and be able to offer information and referrals as needed," writes Davidson. "Some doulas have more extensive training and experience with chest and breastfeeding and can offer even more support."
I've personally met doulas who are certified childbirth educators, hypnotherapists, placenta encapsulators, and lactation specialists — basically, your one-stop baby shop. Davidson helps her clients from the first trimester through the postpartum period, and sometimes stays in contact throughout the first year. Great doulas care about helping moms and babies, in just about every way possible.
But back to the all-important interview. If you're planning to breastfeed, bring that up. Will your doula provide continuous lactation support? Or will she limit her services to the birthing room? Other questions to ask a potential doula include how many births they've attended, how often they'll meet with you, and if they've had previous experience at your hospital or clinic. Davidson also suggests bringing up "anything specific about your birth plans — such as experience with twins, home birth, VBAC, epidurals, or inductions."
Because your relationship with a doula is an intimate one, Davidson shares this additional advice for recruiting the newest member of your birth team:
"Perhaps most important, is to ask yourself: Do you like this doula? Do you trust them? Do you feel supported by them? As much as weighing experience, training, or services matters when selecting a doula, rapport and personality matters enormously, too."
Many birth workers are truly jacks-of-all-trades, with experience or certification in multiple areas. But every doula is unique. If breastfeeding support is important to you, be sure to ask about lactation help in advance.
Check out Romper's new video series, Romper's Doula Diaries: