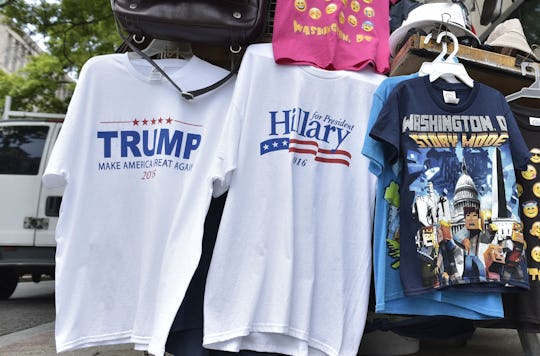 AFP/AFP/Getty Images
Can Clinton Beat Trump In The General Election? Reviews Are Mixed
The 2016 general election should be one of the most memorable for so many reasons. First of all, this will be the first time in history that a woman will be running for President of the United States. Former U.S. Secretary of State Hillary Clinton is the presumptive Democratic nominee, the first woman ever to be in her position. Amazing. Republican nominee Donald Trump is also making history, albeit a different sort of history. While Clinton clearly has more political experience than Trump, will that make any sort of difference come the general election? Can Clinton beat Trump in the general election?
Clinton has already managed to defeat an enigmatic, popular adversary in Vermont Sen. Bernie Sanders. While Sanders was clearly a dynamic, impassioned candidate who galvanized voters (particularly young voters) in a way Clinton never quite seemed to match, she handily beat him in the primaries. Will she be able to find the same sort of success against Donald Trump? It could come down to the small details for Clinton.
Clinton has avoided some of the campaign strategies that have been the hallmark of Donald Trump's campaign and instead played to her own strengths. While supporters were "Feeling the Bern" for Sanders, and Trump was planning on building a wall between Mexico and the United States to "make America great again", Clinton primarily focused on policy. Sure, her campaign hasn't been quite as sexy as Trump's or Sanders', but if recent polls are any indication, the detailed strategy doesn't seem to be hurting her.
According to recent polls, Clinton has 48.9 percent support from voters, while Trump trails with 44.9 percent. The remaining six percent belongs to voters who wouldn't vote for either candidate.
So what could these new polls suggest about Clinton's chances to defeat Trump in the general election? Her consistency and experience should certainly make a difference in the eyes of voters. While Trump flip flops and never really commits to any policy other than his Wall and the general euphemism to make America great again, Clinton's campaign has put forth more than 50 different policy proposals on everything from women's rights to Wall Street reform to gun violence.
Whether she will be able to beat Trump could come down to her endorsements. She has the support of President Obama, which could be an important step to gaining the backing of diehard Sanders' supporters. The president remains popular with Sanders supporters and his endorsement of Clinton could change the tide (50 percent of Sanders supporters said they would not vote for Clinton at a general election, according to Vox). The endorsement of other highly visible Democrats like Massachusetts Sen. Elizabeth Warren and Vice President Joe Biden will hopefully unify a divided party. Plus, Sanders himself has committed to strategizing with Clinton to defeat Trump.
If the Democratic Party presents a united front behind Clinton, and Trump continues to focus more on his Twitter feed attacks than any actual plans for the country, Clinton could have a real shot at the presidency.
But Trump has surprised us before. So perhaps voters shouldn't underestimate him?