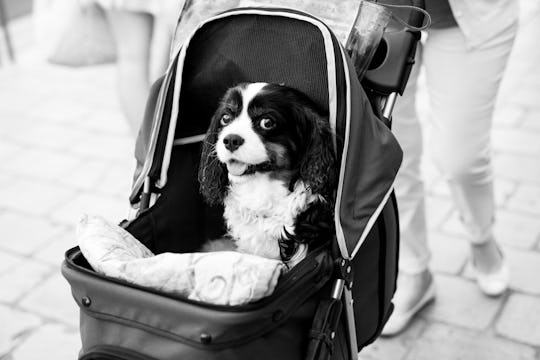 Emma McIntyre/Getty Images Entertainment/Getty Images
Here's What Your Dog Can Really Figure Out About Your Baby In The Womb
When I was pregnant with my daughter, I was convinced our cats knew something was different with their human mama. They would prod at my belly and always find a way to sleep on top of it. Our one cat was especially keen on being close to me during pregnancy, and she has been ultra-attached to our daughter ever since. I swear she knew she was in there. Anyway, we are here to talk about dogs, right? It turns out they are pretty intuitive as well. But can dogs tell the gender of your baby in the womb? It might be a little far fetched (see what I did there?), but let's chat about it.
So, experts say there is no doubt about one thing when it comes to dogs and pregnancy: They know. "Dogs might not understand that there will be a new human in nine months, but they are especially attuned to their owners, and they understand that things are changing," noted New Kids-Center. "They might see that your movements are becoming more awkward, and that you are more tired than usual. They might be able to tell that your emotional mood has changed from one day to the next."
While there isn't definitive research that points at a dog definitely sensing pregnancy (after all, they can't talk), animal experts say dogs can sense changes to your hormones and scent when you are growing a little one. Some may not notice the change, while others might become more loving and protective as a result of the perceived shift. But don't expect your pooch to equate that change with pregnancy.
"Perhaps if the dog has been with you for multiple pregnancies, he might make the connection, but it would be tricky," Jennie K. Willis, an applied animal behaviorist with Colorado State University's College of Veterinary Medicine, told Animal Planet.
Don't be surprised if your pooch also notices your form has changed. If they like to rest on your belly, then they may even feel your baby move, adding to their perception that big changes are on the way.
As for gender, it would seem the verdict is still out. Wag! pointed out that, while a dog might not be able to sense gender when your little one is still in the womb, there is a chance they will be able to do so once your baby is born. That's because dogs are actually pretty good at being able to tell the difference between male and female voices.
"On a soul level, animals are more evolved then humans," Libby Brittain, an animal medium and intuitive, tells Romper in an email interview. "This of course includes dogs."
But Sally Morgan, a holistic therapist for pets and people, tells me in an email interview that all it takes is an observant dog owner to pick up on their ability to sense a baby's gender.
"Every dog has amazing skills if we just understand them better and learn to listen to their signals," Morgan, who is also the author of Dances of the Heart: Connecting with Animals, says. "I am sure dogs can tell during pregnancy if babies are male or female if the person working with the dog can understand the dog's signals."
Whether you believe a dog can decipher the gender of your child or not, one thing is for sure: Animals know what's going on and they are ready to show us the way — dogs included.
"Before our 4-legged professors are born they must first create a contract," Brittain says. "As with all animals, dogs are masters at designing each intricate aspect of their life and lesson plan. They are highly intuitive beings with wisdom they are always eager to share us. All we need to do is listen."