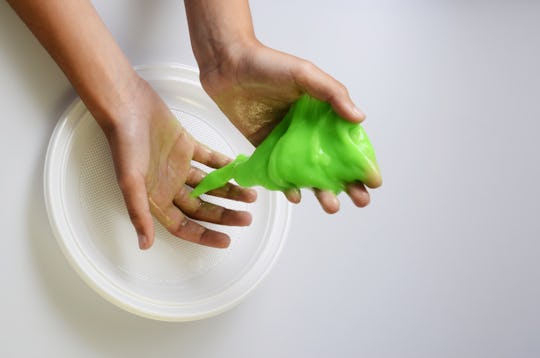 fullempty/Fotolia
Can Homemade Slime Stain Your Furniture? These Cleaning Solutions Can Help
Your kids are on summer break and even if you're not with them all day, you need new ways to keep them entertained and not begging to watch TV. Making homemade slime accomplishes this goal, plus it's an educational activity that utilizes STEM skills. (It's also all over Pinterest.) The only problem is that if you're not careful, you'll end up with slime all over your house. Can homemade slime stain your furniture? If you live in a house like mine, it doesn't even matter because the furniture is already stained, but if you've done a better job at protecting your home from the ravages of parenthood, fear not. There are a few (mostly) natural ways to remove slime residue from your carpets and furniture.
First of all, the ingredients you used to make slime will determine how easy it is to clean up. After CBS reported that the original homemade slime recipe with borax led to third-degree burns on an 11-year-old's hands, parents have been looking for safer alternatives. Many of these recipes contain things that are already in your house such as yogurt, baking soda, and cornstarch. The one variable is food coloring. Colored slime is more fun than plain slime, but also has more potential to stain your furniture. So if you have a white carpet or couch, or just an immaculate house you want to preserve, consider omitting the food coloring from your next slime-making session.
However, if you already have colorful slime stains in your house or simply don't want to deny your kids the pleasure of green slime, KidSpot recommends blotting with cold water first and, if the stain persists, using a combination of dish soap, ammonia, and water. That is similar to Cleanipedia's general prescription for cleaning upholstery: mild laundry detergent and warm water. The article also suggested throwing upholstery covers in the washing machine if your cushions have removable covers. Vinegar, ammonia, and detergent are also listed as upholstery cleaners on The University of Illinois's guide to stain solutions.
If you use one of the natural slime recipes, regardless of whether or not you omit food dye, cleaning up slime stains should be similar to the approach you would take with any everyday stain, whether spilled milk or food. My favorite encyclopedia of housecleaning, Home Comforts by Cheryl Mendelson, has a wonderful guide to upholstery stain removal based on the source of the stain. For food coloring or dye, "seek the help of a professional carpet cleaner," Mendelson advised in her book. Companies like Stanley Steemer clean furniture in addition to carpets. Glue, which is a common slime ingredient, can be blotted with "one teaspoon of a neutral detergent and a cup of lukewarm water," followed by blotting with "one tablespoon of household ammonia with a half-cup of water." Repeat the first step and then finish by sponge blotting with clean water. Mendelson also recommended this combination for milk stains, which would cover yogurt or other dairy ingredients.
Finally, I turned to my mother-in-law, who has the most cleaning expertise of anyone I know. She identifies her favorite multi-pupose cleaner as Lestoil. But before you use a new cleaning product on your rugs or furniture, test a small area. I used to ignore this advice until I ended up with stains on my rug and couch from an incompatible upholstery cleaner. But really, whether it's a stain from a cleaning product or a stain from slime — who can tell?