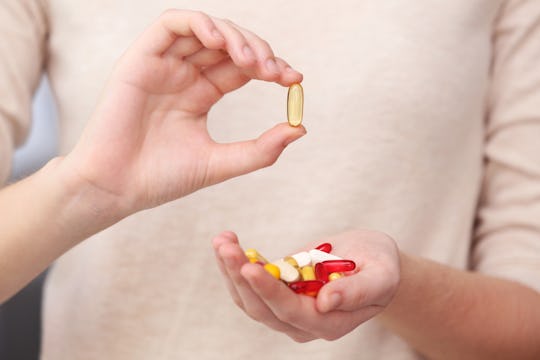 Africa Studio/Shutterstock
If You Usually Take Zinc For A Cold, Here's What You Need To Know During Pregnancy
Prior to pregnancy, whenever I'd feel a cold coming on, I'd start popping zinc and drinking Emergen-C. Now that I'm pregnant and feel like I always have a cold — is anyone else stuffy during pregnancy 24/7, or is it just me — I was wondering if I could still continue my usual regimen when trying to desperately fend off a cold. Now, I know you can't take most cold medicines, but can I take zinc while pregnant? What about Emergen-C? Are there any other supplements pregnant ladies should stay away from?
According to Dr. Yvonne Bohn, OB-GYN at Providence Saint John's Health Center in Santa Monica, California, it is indeed safe to take zinc while pregnant because it "helps with immunity and cell division. Most prenatal vitamins contain some zinc. However, we do not recommend taking more than 40 milligrams per day," she tells Romper in an email interview.
In fact, according to Dr. G. Thomas Ruiz, an OB-GYN at MemorialCare Orange Coast Medical Center in Fountain Valley, California, zinc is actually an important mineral when it comes to fetal growth, and "severe zinc deficiencies have been associated with poor fetal growth." So perhaps I should be taking zinc regardless if I'm getting the sniffles or not, huh?
According to the American Pregnancy Association (APA), "Zinc deficiencies are common in pregnant women due to rapid cell growth, and as such, proper supplementation is imperative. Zinc deficiencies during pregnancy have been associated with adverse outcomes including low birth weight, premature delivery, and labor complications." So getting enough zinc is definitely important for your growing baby, in addition to your own immune system.
Now, I love me some Emergen-C, especially as someone who hates eating oranges. I feel like it works for me when I feel a cold coming on, while others may think it's all in my head. Whatever, there's no shame in my Emergen-C game. It's basically just an amped up vitamin C supplement, as it has 1,000 milligrams of it. It comes in this powder and you mix it with the beverage of your choice — mine is no-pulp orange juice — and drink up. Hey, eating an orange is a totally different texture than drinking no-pulp orange juice, OK? And as far as pregnancy safety goes, Ruiz says "Emergen-C should be safe during pregnancy. Each dose contains 1,000 milligrams of vitamin C. However, it is advised not to take more than 2,000 milligrams per day of vitamin C during pregnancy." So if you do choose to take Emergen-C, make sure the other foods you're eating during the day don't exceed 1,000 milligrams of vitamin C. And I guess I should stop taking it with orange juice.
As far as other supplements that are safe to take for pregnancy, other than your prenatal vitamins, Bohn says, "Many supplements do not have safety data in pregnancy, so it is important to check with your doctor and review these. In general, less is more. If you don't need it, don't take it, because most supplements do not have scientific studies to determine safety."
Your prenatal vitamin should have a lot, if not all, of what you need for a healthy pregnancy, barring any deficiencies your body may have already. The APA recommends all pregnant women take a quality prenatal vitamin that includes vitamin A, vitamin B complex, vitamins C, D & E, calcium, iron, iodine, magnesium, sodium, potassium, choline bitartrate, and yes, zinc.
So I guess I can continue my own personal cold fighting regimen of taking zinc and Emergen-C, I just need to make sure I don't exceed 2,000 milligrams of vitamin C. Maybe these darn pregnancy sniffles won't turn into a full blown cold after all.
Check out Romper's new video series, Romper's Doula Diaries:
Watch full episodes of Romper's Doula Diaries on Facebook Watch.