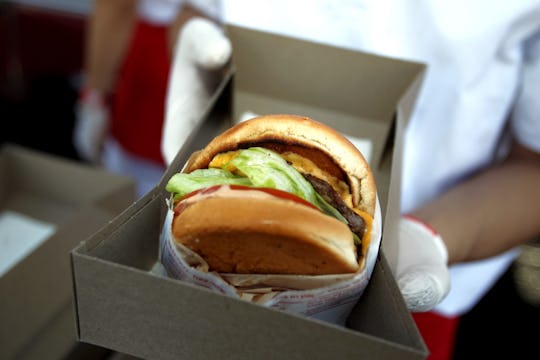 Tommaso Boddi/Getty Images Entertainment/Getty Images
Can In-N-Out Burger Increase Your Milk Supply?
Breastfeeding moms who would like to increase their milk supply may turn to galactagogues. These are foods or drugs that are believed to increase the amount of breast milk the body produces. New moms often choose foods that contain alfalfa, oats, barley, fenugreek, fennel, or Brewer's yeast to give their milk supply a kick. But, what if you have a hankering for an animal-style burger while on a lactogenic diet? Can In-N-Out Burger increase your milk supply?
I remember the first time I visited Los Angeles. Most people spend their inaugural visit to the City of Stars trying to spot celebrities and seeking out the filming locations of their favorite movies and television shows. I, however, was guided by my love of burgers. I visited Jerry's Deli, Original Tommy's Hamburgers, Jack In The Box, and of course, everyone's favorite, In-N-Out. When the question arose of whether a breastfeeding mom could find a meal on the In-N-out menu that would serve as a galactagogue, I put my burger-loving research skills to work.
The Huffington Post noted that In-N-Out's classic menu is quite simple, consisting of:
hamburger (a beef patty, fresh lettuce, tomatoes, onion, spread)
cheeseburger (same as the hamburger, but with cheese added)
Double-Double (same as the cheeseburger, but with an second patty and piece of cheese)
French fries
milk, coffee, lemonade, iced tea, and Pepsi products
shakes (chocolate, vanilla, strawberry)
According to the In-N-Out website, this is the same basic menu guests have enjoyed since 1948. Unfortunately for breastfeeding moms trying to increase their milk supply, it is not immediately clear that anything on this almost 70-year-old menu will act as a galactagogue and immediately account for an uptick in your milk supply. Romper reached out to In-N-Out to see if any breastfeeding parents had credited the fast-food establishment with upping their milk supply but did not hear back at the time of publish.
So even though the answer isn't conclusive, that's no reason not to enjoy one of In-N-Out's mouth-watering burgers and shakes. You can still use galactagogues in your other meals to increase your milk supply.