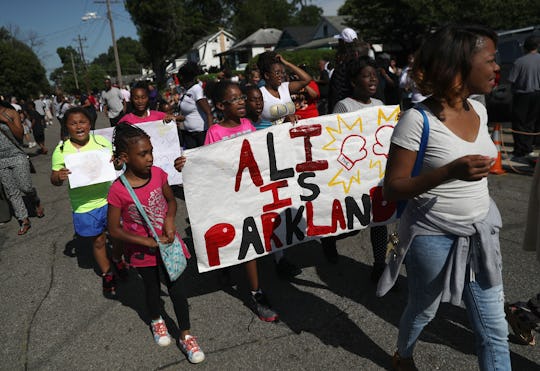 John Moore/Getty Images News/Getty Images
Can Kids Go To The March For Our Lives? Here's What Parents Need To Know
Ever since the deadly mass shooting at Marjory Stoneman Douglas High School in Florida earlier this month, there seems to be change brewing. Sadly, it took the death of 17 people, many of whom were children, to bring about this change. And it's the surviving students who are making all of the difference in the world. Several students from the Parkland shooting have taken it upon themselves to be a force for good, and to that end they have arranged a march to make schools safer. As parents prepare to join the march, many might be wondering if kids can go to the March For Our Lives event on March 24, too. Because let's face it — the next generation is the one who is going to be the most affected by gun reform policy in this country.
Kids are not just welcome to join the March For Our Lives events being held across the country on March 24, they're encouraged. After all, kids were the ones who started this movement. In the hours and days after a lone gunman entered the Parkland, Florida high school and opened fire, killing 17 people in just three minutes, the students were the ones who made sure their voices were heard.
One such student was Emma Gonzalez, a 17-year-old senior who gave an instantly historic speech at a gun reform rally in Fort Lauderdale, Florida on Feb. 17, just three days after surviving the mass shooting at Marjory Stoneman Douglas High School. She was one of many young voices calling out President Donald Trump for taking money from the NRA and for trying to turn their tragedy into an issue between himself and the FBI.
In the past, it was the children looking to the adults to help move forward past a tragedy. The general accepted wisdom being that adults have lived longer and therefore carry more knowledge, are better equipped to navigate the world. If the mission statement from the March For Our Lives page tells us anything, it's that perhaps we had it all wrong. We needed strong, fearless, resilient kids to lead the way. The mission reads:
The mission and focus of March For Our Lives is to demand that a comprehensive and effective bill be immediately brought before Congress to address these gun issues. No special interest group, no political agenda is more critical than timely passage of legislation to effectively address the gun violence issues that are rampant in our country.
The students have banded together with their parents, teachers, and other supportive adults to organize a peaceful march on Washington D.C. on March 24. As with previous protests like the Women's March, there will be similar marches held in cities across the country. And while these children have bravely lead the charge, they have the support of some seriously impressive adults to help them. Oprah Winfrey, Steven Spielberg, and George and Amal Clooney have all pledged hundreds of thousands of dollars to help offset the cost of the march.
Many of the adults are doing more than pledging money; they're marching. Jimmy Fallon said during The Tonight Show on Monday that he would be marching alongside his wife and two children on March 24. An Reese Witherspoon tweeted that she would be encouraging her kids to join as well.
Children aren't just welcome to march with their parents and loved ones at the March For Our Lives; they're the entire reason people will be marching. Their lives are the whole point. As the mission statement so eloquently reads:
Change is coming. And it starts now, inspired by and led by the kids who are our hope for the future. Their young voices will be heard.
As frightening as it might be for kids to join the March For Our Lives, it's important. For them to understand that their voices carry weight, that they are entitled to protest laws that put them in harm's way. In short, they are entitled to March For Their Lives.