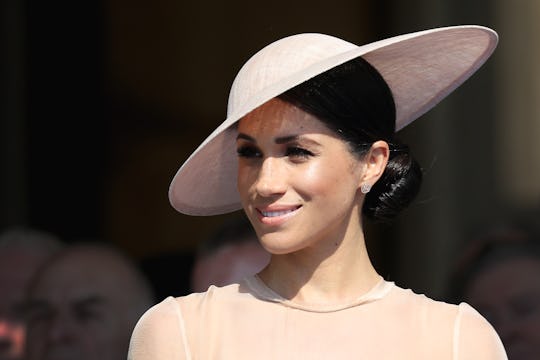 Chris Jackson/Getty Images Entertainment/Getty Images
Here's What Kensington Palace Says About Meghan Markle's "Ambition" To Be President
Americans may not have their own royal family, but there have been times when the brood in the White House felt like our version of the Dukes and Duchesses we admire so much. President Kennedy and his family were well loved by the American people, and seeing little Malia and Sasha Obama enter the White House after their father's inauguration made all the hearts skip a beat. We love to love those in office, but can that translate to the actual royal family? With her feminism and intelligence, can Meghan Markle run for president? I mean, you don't just appear on Nick News for no reason when you're 11 years old, but while Meghan Markle, Duchess of Sussex, seems like she could one day be the right woman for the job, it's just not in the cards for her.
I know. It feels overwhelmingly unfair that a reality show star can become president, but a woman who is an actual women's advocate for the United Nations and a global ambassador for World Vision Canada may have lost her opportunity. But does being in the royal family automatically forbid her from ever running for president? Apparently, some sources have come forward claiming that Meghan had mentioned running for president one day, but according to Kensington Palace, that just isn't happening.
A few days ago, The Daily Mail ran a story that spoke of Meghan's presidential ambitions when she was a child, and how she recently shared with a friend that she wanted to become president one day. But Yahoo! News reported that a spokesperson for Kensington Palace called out this conversation pretty quickly. "The conversation you describe with an associate is fictitious," the Palace reportedly stated.
But the palace doesn't officially say Meghan can't run for president, so what's the deal here? If she retains her American citizenship, can she still become President of the United States?
Technically, I guess she could, but as a member of the royal family, it's just not going to happen. According to CNN, the British monarchs have little to do with politics. In fact, it's incredibly important that they remain neutral at all times and represent the entire country rather than a party. But while the royal family itself is allowed to express opinions, like Meghan sharing her feminist view points, it doesn't mean she can truly jump into politics or make super charged political statements as the Duchess of Sussex.
"Now she has come into the royal family, she will have to be politically neutral. Harry has probably made that perfectly clear. He knows she has been outspoken, but all that has to stop. She is going to have to adapt. I am sure she is on the road already," Dickie Arbiter, former press secretary to Prince Charles, told The Guardian back in November when Meghan and Harry's engagement was announced. While the article noted that she's allowed to have her campaigns, much like the Duke and Duchess of Cambridge work towards mental health awareness, she won't be able to use her activism to further her political views or speak out against specific politicians and their values. Instead, Meghan will have to use her views, her activism, and her feminism to fuel her own campaigns and make the world a better place.
So fret not, Meghan fans. Just because she's now Duchess of Sussex doesn't mean she becomes some super prim, quiet woman who never speaks out on injustices. While you won't see her writing slogans for a presidential campaign or calling out President Donald Trump's tweets, you can expect to see her continue to find value in what's important to her and to work hard to make a difference with her new power and position.