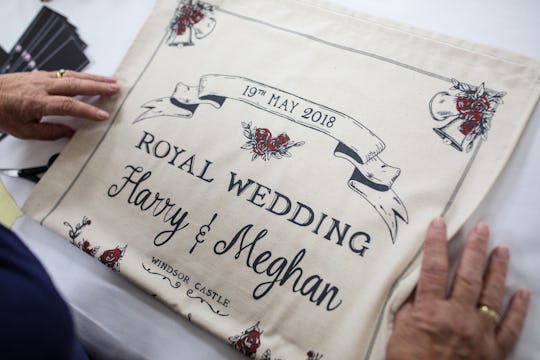 Jack Taylor/Getty Images News/Getty Images
Turns Out, Even Royals Can Have Baby-Free Weddings
Saturday, May 19, Meghan Markle and Prince Harry will be wed at St. George's Chapel at Windsor Castle. Many people — including a ton of folks across the pond here in the U.S. — are excitedly anticipating this event, and as we all know, anything royal has tons of tradition, and of course, proper etiquette. But what about the guest list regarding kids at the royal wedding? Kate Middleton just had her brand new baby boy, Prince Louis. Will he be allowed to attend the affair? Can you bring a baby to a royal wedding or will Kate Middleton be like the rest of us and have to hire a babysitter for the evening?
It's no secret that kids play a major role in the royal wedding ceremonies. That's right, there are two of them — a daytime ceremony and "wedding breakfast," and then an evening reception, where couples can spend time with their guests and close friends on a more "intimate" level. According to WeddingWire, it's "British tradition to have children in the wedding party as flower girls or 'baby bridesmaids' and pageboys." The children are often nieces, nephews, god children, cousins, and children of close friends. They're typically as young as 2 years old and can be as old as 17, WeddingWire noted.
But as far as babies as guests, The Cut reported that there's probably no reason to "expect a 1-month-old baby [Prince Louis] to be in attendance, but kids are invited to the ceremony." As far as the private reception, "and the even more private after-party following the private wedding reception ... there's nothing prohibiting children from attending those events," the article stated. And like most weddings, whether the couple wants to allow children or not is totally up to their discretion.
The Telegraph reported that Kate Middleton and Prince William had a very intimate evening guest list (you know, just 300 people), and didn't mention any children who were in attendance, but will Meghan Markle and Prince Harry follow suit? I guess we'll have to wait and see on May 19. But there are some other traditions you can expect to see. In addition to two wedding receptions, there will be two enormous cakes, and they have to have "sky-high tiers in white or ivory," according to WeddingWire. Markle and Prince Harry's wedding cake will be a "trendy lemon elderflower cake from London pastry chef Claire Ptak," The Cut reported. Fruitcake is the traditional royal wedding cake, according to Brides.
And there's no throwing of bouquets at a royal wedding. According to Business Insider, "The late Queen Mum started another tradition, leaving the bouquet in Westminster Abbey at the grave of the Unknown Warrior, to honor those in military service." Another cool bouquet fact: Every royal bride since 1840 will be carrying a sprig of myrtle in her wedding bouquet. "In 1840, Queen Victoria tied the knot with Prince Albert while carrying a sprig of myrtle in her wedding bouquet that she commemorated by planting a myrtle shrub at her home in Osborn," Business Insider noted. Of course, in addition to carrying the bouquet down the aisle, it's required the bride wears a tiara. Darn.
As far as royal wedding attire for the guests, of course we will see some crazy elaborate hats on all of the female attendees' heads — though bare shoulders should be avoided for formal day weddings — and "male guests are expected to wear military uniforms, morning dress, or longer suits," according to Brides.
So it turns out, as far as children attending royal weddings, they really are "just like us." It's up to the couple's discretion of what they want — at least for the private second reception anyway. And while kids are a major part of the royal wedding procession, babies may have a better day and night if they just stay at home and sit this one out.