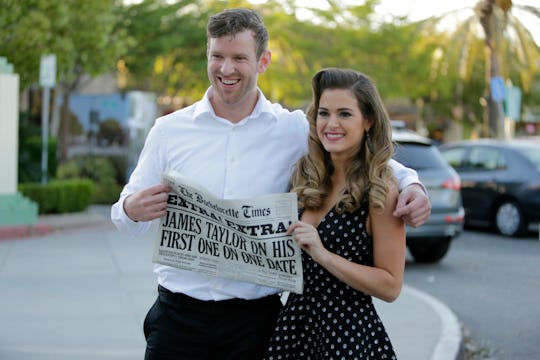 Greg Zabilski/ABC
Can You Buy James Taylor's Music? 'The Bachelorette' Contestant Has Something Coming Soon
The Bachelorette's James Taylor really wants you to know that he's a musician, and he will remind you by pulling out a guitar at any opportunity, at the drop of a hat. Saying hello for the first time? Guitar. Romantic moment? Guitar. Pause in the conversation? Guitar. James Taylor doesn't want you to forget that he makes music, and on the off chance you like his folksy strumming then you might want to know if you can purchase any of it. Can you buy James Taylor's music?
If you're looking for legendary singer/songwriter and five time Grammy Award winner James Taylor, then yes. Just Google his name and you'll have decades of songs to enjoy. If you're after the other James Taylor then you're better off searching for his stage name, James McCoy Taylor. His music is freely available to sample on his Instagram page, but as for an actual album? No such luck.
However, even though he doesn't have an album out, it does look like the song James performed for JoJo in Episode 3 will be released (for free!) on iTunes and SoundCloud. James made the announcement on his Instagram alongside a video of himself doing a soundcheck. The song should be available for download in a day or two, according to James.
If James were looking to springboard his time on The Bachelorette into a professional music career, it seems as though he might have some success. If I were to take a wild guess, I would say that his time on The Bachelorette probably won't end without him having an album to promote.
Usually the grand tradition of reality TV stars trying to turn their fifteen minutes into twenty or thirty minutes results in the star in question launching their other projects when the most attention is on them. Say, after being eliminated. Or being chosen at the end (you never know!). So while James doesn't have a whole lot of music available yet, there's a good chance he will have some available in the future.
James' music is what gave him an edge on the show and finally inspired JoJo to feel something more than a platonic connection with him – well, his music combined with a monologue about his Nice Guy struggles in relationships. James' aw shucks country boy vibe mixed with his chill guitar and syrupy romantic lyrics make him a good fit for a show like The Bachelorette, so it's the perfect way for him to get his professional music career started. He's certainly making the most of the opportunity.