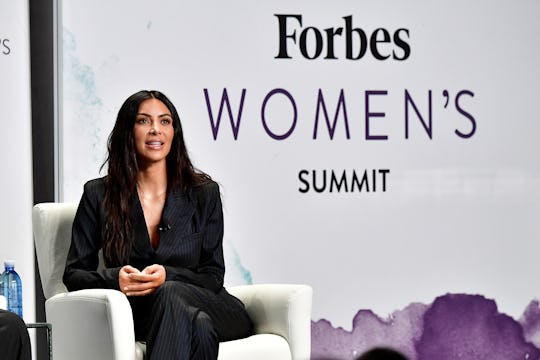 Dia Dipasupil/Getty Images Entertainment/Getty Images
Kim K's Kids' Clothes Will Be Available Online, Relax
Kim Kardashian sets trends like its her job, from dictating what the general public wears, to her makeup line and techniques, which inspired so many to add contouring and highlighting to their own daily routines. But Kim Kardashian is now inspiring a whole new generation with her foray into kids' clothing. Kardashian has been showing off some of her new designs on her Snapchat this past week. But those wondering if they can buy Kardashian's kids' clothing line online might have to wait just a few more days to finally get their hands on one of the coveted items.
The short answer: Yes. You can technically buy Kim Kardashian's kids' clothing line online. You just can't buy her clothing line online right now. A few months ago, Kardashian and her husband, Kanye West, launched their first clothing collaboration together, The Kid's Supply; the products debuted online in May. "For the past few years Kanye and I have made almost all our kids clothes and we have collaborated on a new kids line!" Kardashian tweeted at the time. "All of my friends would ask where we got our kid's clothes so now they will be available!"
The first launch of The Kid's Supply included chokers, hats, and even a silk bomber jacket ranging in price from $20 to $240. The second launch for The Kid's Supply seems just as exciting, but fans will unfortunately have to wait until Monday, July 17 to obtain any items themselves, according to Harper's Bazaar. From the looks of what Kardashian has posted on The Kid's Supply Instagram, the wait will be worth it.
The website for The Kid's Supply is still up, but visiting it won't bring you to a place to purchase the clothes. Instead, it will bring you to a landing page where you can enter your email to presumably be updated when the next launch happens. Parents (or very generous aunts and uncles) might want to enter in their email now so they can be first in line for when the clothes are released. Judging by just how cute the clothes from the second launch are, it may be a matter of hours before they're all sold out.
If you are dying to get your hands on something from Kardashian's first launch of her kid's clothing line online, you might be in luck. A few of the pieces have popped up on resale websites, like eBay, but the prices aren't cheap.
Don't sweat it though, Kardashian fans — you'll be able to snag some even newer, cuter kids' clothes soon enough.