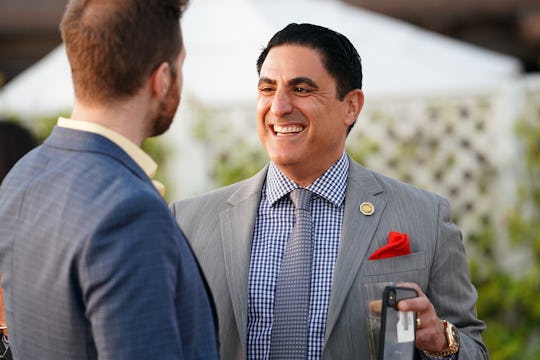 Nicole Weingart/Bravo
How To Buy Reza's Hair Care Line From 'Shahs of Sunset' — P.S. It's Affordable!
Shahs of Sunset fans primarily know Reza Farahan as a real estate agent (OK and as a reality TV star). But his latest venture just may be his most exciting yet. Reza recently launched a gold-infused (yes, seriously) hair care line called REZA Be Obsessed. Fans are naturally wondering: can you buy Shahs of Sunset star Reza's hair care line? Here's everything you need to know about the new products — which are surprisingly affordable.
REZA Be Obsessed products are available for sale on the website RezaBeObsessed.com, as well as Evine.com, a new online retailer. Each REZA Be Obsessed product is gold-infused and contains seven "mystic" ingredients to help fight frizz. The Mystic 7 Complex is comprised of: crushed diamonds, which absorb heat to prevent heat styling damage; strawberry seed extract, which provides tocopherols and anti-oxidants; olive oil-infused black truffle oil, which simultaneously makes hair softer, lighter, and fuller; champagne, which detoxifies and removes buildup; king coconut oil, a special nourishing oil derived from Thambili coconuts found in Sri Lanka; hyrolized pea protein, which strengthens hair and protects against styling damage; and the real rose of Jericho, which protects and increases moisture levels in the hair.
That all sounds pretty dang fancy! However, the products range in price from $10 to $33, which is actually on the lower end for luxury hair care. Hooray!
The seven products available for online order via the website are as follows: REZA Fixation Shampoo, $24; REZA Fixation Conditioner, $24; REZA Love my Leave-In, $22; REZA Ultimate Hairspray Can't trump this, $22; REZA SeaSpray Vacation in a Bottle, $19.95; REZA King of Wax, $21; and REZA Black Diamond Oil, $33. Additionally, Evine offers collections and duo sets of a few of the products, and the website also provides full ingredient lists. Unfortunately, there is no mention as to whether the products are cruelty-free.
Reza's statement on the REZA Be Obsessed website makes it clear just how passionate he is about his foray into hair care. He wrote:
Born out of a desire to offer the very best in haircare to everyone, Reza Be Obsessed is truly a labor of love. I've spent the better part of my life buying and trying tens of thousands of dollars of haircare and styling products, to manage my unruly hair. With a combination of issues from dry, coarse and unmanageable hair, I've accumulated an arsenal of products. I understand that not every consumer has that luxury, so making an affordable line, with the best ingredients and technology became my obsession.
So how did Reza come up with the idea for a hair care line, considering his real estate background? He opened up about the line's unique inspiration in a video interview for Bravo. While at the dog park, his dog Marty attacked someone else's dog. "I had to walk over and apologize — I was mesmerized by her diamonds and her Hermès. She told me I had great hair, and I said 'what do you do?' She said 'I'm in the hair care business,'" he recalled. "Literally, I fell in love with her and I just started collaborating with them, and boom, I spent $500,000 and I was able to make a hair care line."
In the video, Reza shared a few tidbits about REZA Be Obsessed. Most notably, he explained that the products were designed to work on all types of hair. Additionally, as mentioned on the website, REZA Be Obsessed will donate 5 percent of every order placed to St. Jude Children's Research Hospital.
Congrats to Reza on this new journey! I have no doubt Shahs of Sunset fans will be ~obsessed~ with the new line.