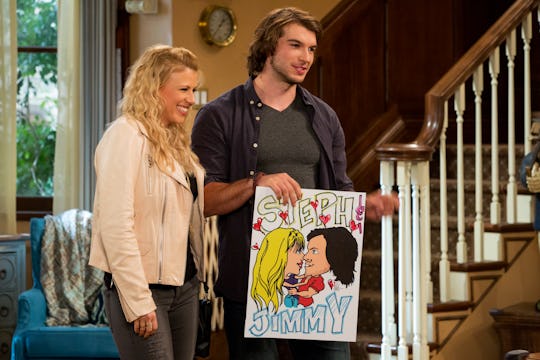 Michael Yarish/Netflix
Can You Buy "The Boy Next Door" From 'Fuller House' Season 2? Jodie Sweetin Has A New Song
(Warning: This post contains spoilers from Episode 7 Of Fuller House.) On Fuller House, Jodie Sweetin plays an all grown up Stephanie with ambitions to become a singer/songwriter. You may remember when this all began with her short-lived band Girl Talk from the original Full House series. And in Season 2, she writes a surprise hit single. So can you buy "The Boy Next Door" from Fuller House Season 2? It's available on iTunes so you can purchase it and sing whenever you'd like.
In the series, Stephanie writes a song for her new boyfriend, the unlikely Jimmy Gibbler, Kimmy Gibbler's younger brother. It's called "The Boy Next Door" and she sings it for him in the living room, where all good family concerts take place. (Seriously, that place is like the Madison Square Garden of sitcoms). When she and Jimmy make a music video for the song, it doesn't get quite the reception they were hoping for, until Kimmy saves it by replacing them in the video with baby Tommy and the dog. Which is a pretty solid strategy honestly. The video goes viral, Steph performs it on her dad's morning show, and it looks like her musical career is finally starting to take off. And it looks like Jodie Sweetin's musical career might be on the up and up as well.
The single is available for purchase on iTunes, and credited to Sweetin, which means that all those times she performed on the show, she was most likely the actual singer. Sweetin doesn't seem to have musical ambitions at the moment, but she could probably make a pretty solid go of it if she wanted. If you still want to listen to "The Boy Next Door," but you don't feel like rewatching the episode (and the video with the baby and the dog), you can also find the song on Spotify.
It's not Sweetin's only musical credit, however. She also sings with Dave Coulier (Uncle Joey, in case you'd forgotten) on a few of his songs on The Adventures of Jimmy Bugar, his musical storybook written and performed for small kids. Fellow Full House alum Lori Loughlin is also featured on the album. Sweetin has performed at various times with her Full House co-stars over the years, but has still never gone pro, unlike her character. Maybe Sweetin will one day decide to quit acting and become a singer-songwriter just like Stephanie. Until then, we're just enjoying Steph follow her dreams like we always knew she would.