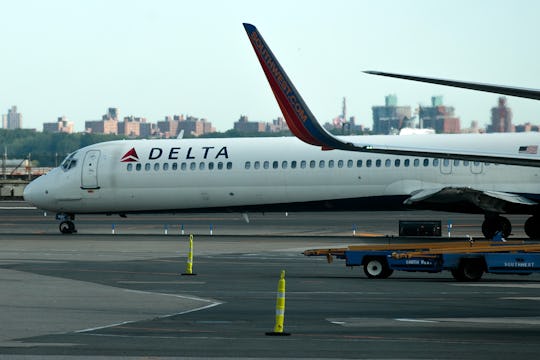 Drew Angerer/Getty Images News/Getty Images
Delta Removes Family From Flight Over Head Lice
Nobody, but nobody wants head lice. Trust me. All four of my sons once had it together, and it was honestly the worst two weeks ever. So when I read about a family that was reportedly barred from their connecting flight because their son had head lice, it gave me the cold flashbacks. But should we really be panicking? How contagious is head lice, really? Is it even possible to catch head lice on a plane?
According to a post written by Clay Travis, a father of three and a Fox analyst (as well as a lawyer), he was on his way home from a holiday in Paris with his family when his wife discovered mid-flight that his six-year-old son had head lice. He wrote of his experience on Out Kick The Coverage:
My wife checked to see why he was scratching his head and saw then that he had lice. Several flight attendants rushed over too and peered down at my son's head. "Oh, my God, he has lice," they said.
The family was set to exit the plane on Minneapolis and catch a connecting flight home to Nashville. Unfortunately, they were reportedly told they couldn't leave the plane. When they landed in Minneapolis, Travis wrote that the family was kept on the plane and told they would not be allowed to catch their connecting flight; they were asked to leave the airport after Delta employees submitted the three kids to a medical examination not once, but twice. Initially on the airplane (plastic gloves and all) as well as reportedly in the line for Customs.
While there doesn't appear to be any official airline stance regarding head lice, a Delta spokesperson offered this statement to Inc.com about the situation:
We will always prioritize the health of our customers and employees as safety is our top priority. We will work directly with the family to resolve the issue.
So can you actually catch head lice on a plane?
Head lice is, after all, hugely contagious. It can spread quickly and easily, especially in group settings and close quarters like classrooms where children's heads tend to be close together.
Also on airplanes.
And while head lice isn't dangerous or life threatening, it is incredibly difficult and time consuming to eradicate because lice can live on clothing, linens, and any other sort of fabric an infected scalp might touch.
Travis noted in his essay that he had checked the CDC website and found that head lice did not spread disease... but it does actually spread head lice.
I'm sure it was a stressful situation for the family. But here's the thing; if you were taking your child on a flight and learned the person sitting next to you for the next several hours had head lice... would you be happy about it?
Probably not.