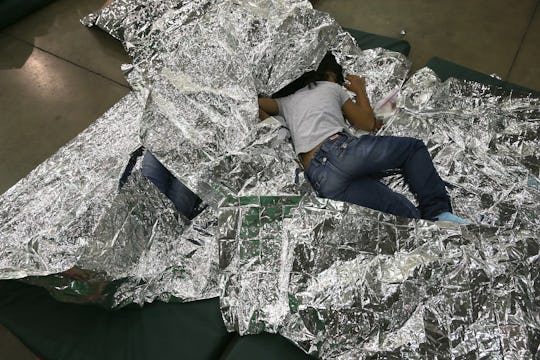 John Moore/Getty Images News/Getty Images
Here's What You Need To Know About Donating Toys To Immigration Detention Centers
The news coming from the Mexico/U.S. border has sent a lot of people into a tailspin, but for those of us wanting to help, focusing on the issue and what we can do seems to be not only effective, but a great coping mechanism. The thought of all those children and babies, crying for their parents, or being kept with their families only to be detained for weeks on end, is enough to have us all weeping. When I heard that officers were even confiscating children's teddy bears, I lost it. So can you donate toys to detention centers in an effort to make these kids' days the tiniest bit bearable, or are they left with nothing?
According to The Huffington Post, "anything considered nonessential and potentially lethal is confiscated" by Customs and Border Protection, and that includes a child carrying a teddy bear, a blanket, or other personal item. Like most "policies" and "processes" from the Customs and Border Protection, there's supposed to be a way to get these items back by using a ticket, but of course, that doesn't always seem to work and undocumented immigrants are left without the very few things they brought.
Can you imagine escaping your home country to look for a better life? Chances are, you'd have very limited things with you and whatever they were would be incredibly important. To lose them is even more traumatic, but to have a child's own possessions taken from them, especially after they've been separated from their parents and/or detained with their families indefinitely, is pure cruelty.
To make matters worse, it's not like these cages the children are being held in have any toys to play with, Huffington Post noted. And for comfort, the children are even prohibited from hugging each other, reported The Washington Post. Donating toys and other small comfort items seems like a great way to help, but is it possible? Will the items get to these children?
While there haven't been any organizations specifically asking for toys to donate to these children, there have been several protests at the border and detention centers with demonstrators bringing toys to the door. PBS reported that at the Ursula Border Patrol Processing Center in Texas, protesters showed up yelling, "you are not alone" in Spanish, hoping the children inside would hear them. But while the demonstration was supported by the Families Belonging Together coalition, protesters and organizers were not allowed to bring in the toys and cards they had collected. Instead, Former U.S. Secretary of Housing and Urban Development Julian Castro was denied entry, along with a young girl. They left the "colorful construction paper cards and toys on the ground at the door," PBS noted.
Honestly, at this point it seems like you can either leave toys outside of these centers and assume they'll be tossed/ignored, or you can look towards the foster homes that have taken in children and donate toys there. The Detroit Free Press reported that in one refugee center in Michigan, a woman was able to donate books, toys, and diapers. As of now, that same center is no longer accepting donations, but the hope is there that other refugee centers and foster homes will accept toys for these kids.
One Harlem facility in New York has accepted over 350 children with the youngest one being only 9 months old, according to the New York Post. There are also five children in South Carolina, reported the Post and Courier, and several in California. But a lot of the specific whereabouts aren't being shared for safety reasons, so finding a place to donate may prove difficult.
While the thought of giving a child a teddy bear they can hold onto during this traumatic moment is lovely, it might be more effective at this point to focus your donations and man power towards organizations that are offering legal counsel or essential supplies like formula and diapers. There is a Target registry to donate to Baby2Baby for supplies, and there are 14 other organizations specifically helping the kids at the border. Save your toys for now, until you know they can get to the hands of those who need them the most, and focus on what else you can share and do. These kids need your support, even if it's not in the form of a toy.