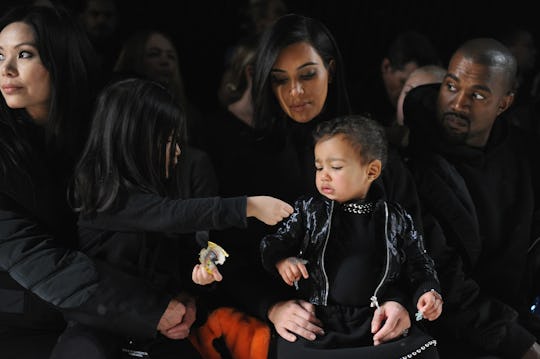 Craig Barritt/Getty Images Entertainment/Getty Images
No Discounts On Kim Kardashian's Kid's Clothing Line (Yet)
Social media influencer and icon Kim Kardashian released her first ever children's line, co-designed with husband and rapper (and fashion designer himself) Kanye West, just last week. The line was highly anticipated by Kardashian fans and fashionistas alike, who watched as Kardashian teased the line on her Snapchat for months. Plenty of people not looking to dip into their children's college fund to splurge on the clothes are likely still hoping to get their hands on a few items, and have more than likely wondered if you can get a discount on Kim Kardashian's children's line. Those people might have to keep wondering for a while — because less than one week since the line's release, all of the items are sold out.
It's understandable that you might want to get a discount on Kardashian and West's children's line, The Kid's Supply. The line ranges in price from a more affordable $22 for a choker and $28 for a classic logo t-shirt — and then go up to $150 for a children's silk slip dress and $250 for a silk bomber jacket, inspired by Kardashian's hometown of Calabasas, California. The high-end price tag is understandable (it's a Kardashian and Kanye creation, after all), but not entirely affordable for everyone, which is why some people are more than likely searching for a coupon code for The Kid's Supply or at least some kind of discount on it.
Unfortunately, Kardashian and West's kid's clothing line, when it was still in stock, could only be purchased full price on The Kid's Supply website. Now that the line is sold out, looking for a discount might not be the next step on your list anymore — you'll just have to wait until the website is restocked.
As for Kardashian herself, the reality star and businesswoman has not tweeted about any special codes for the clothing and the website's help section doesn't indicate any such discounts either. It's also impossible to determine if the Kid's Supply check out even has a space to enter a discount code, because you can't add any of the items to your cart.
People who are dying to get their hands on the clothing using any means necessary will likely have to wait three to five weeks until the clothing ships, according to the Kid's Supply website, and see if items pop up on any resale websites. But even then, you're not guaranteed to get any sort of discount — in fact, it's more likely that those items will be even be more expensive. (Remember when West released his Yeezy Boost 350 sneakers in toddlers sizes in August for $130, and users on resale websites started listing those same children's sneakers for almost $100 more?)
It might be a while before children and their Kardashian-obsessed parents can get their hands on Kid's Supply clothing at all, let alone at a discounted cost. If you have to have them, sit tight, be patient, and remember that if all else fails, you can just pick up some equally cute items from the Kardashian Kids line, which is sold at at Toys "R" Us, Nordstrom, Zappos, Hudson's Bay, or Lord & Taylor... and yeah, is probably a lot cheaper.