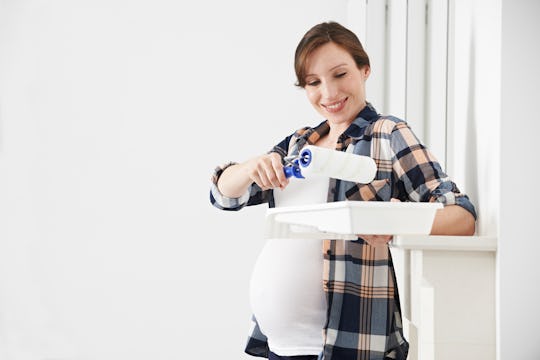 highwaystarz/Fotolia
What All Moms Need To Consider Before Painting Pregnant
Isn't planning, furnishing, and decorating the nursery one of the best parts about preparing for a new baby? There are stuffed animals to buy, furniture to choose, themes or colors to decide on, and walls to paint. But can you paint while pregnant? You totally want to get in there and help (or do it yourself), but should this be a job for your partner or a friend? What are the risks?
According to the American Pregnancy Association (APA), there are unfortunately no studies documenting the effects of household painting on pregnancy and your baby. However, there is a common assumption among experts, which is painting your home (or nursery) "involves very low levels of exposure."
The National Health Service (NHS) recommended that you stay away from solvent-based, or oil-based paints and spray paints when painting the nursery, and avoid stripping old paintwork in old houses because they probably contain lead.
But what if you live in a really old house, like I do? Mine was built in the '20s, but even if your house was built in the '70s or below, it looks like you're going to have to stay out of the room when the walls are being stripped and sanded for the new color. "According to the U.S. Food and Drug Administration, exposure to lead paint increases the likelihood of lead poisoning and mental retardation. Scraping and sanding old paint should be completely avoided," the APA suggested. "This puts higher concentrations of solvents and chemicals into the air to be inhaled."
The APA suggested you have someone else do this part of the remodeling, "and ideally, remove yourself from the location until the project is complete."
But let's be honest here. Even though there are no studies that claim painting while pregnant will harm you or your baby, you might want to call in reinforcements just to be safe as there's more than just paint to consider. According to the Wayne State University Physician Group, standing for a long time, stooping, or bending over can be risky once you're about halfway through your pregnancy. Heavy physical labor, including climbing ladders, and lifting heavy items (like big cans of paint), can also be dangerous. You'll want to consult your healthcare provider before fully tackling any DIY project.
Guidelines NHS also recommended wearing protective clothing, such as long sleeves, long pants, and gloves if you're planning to paint. Ventilation is important as well, so you should open all the windows, turn on ceiling fans, and take plenty of breaks for fresh air.
So if you want to paint your baby's nursery, you go, mom. Just remember to follow some guidelines and accept help when you can. Enjoy this part of nesting and preparing for your new baby.