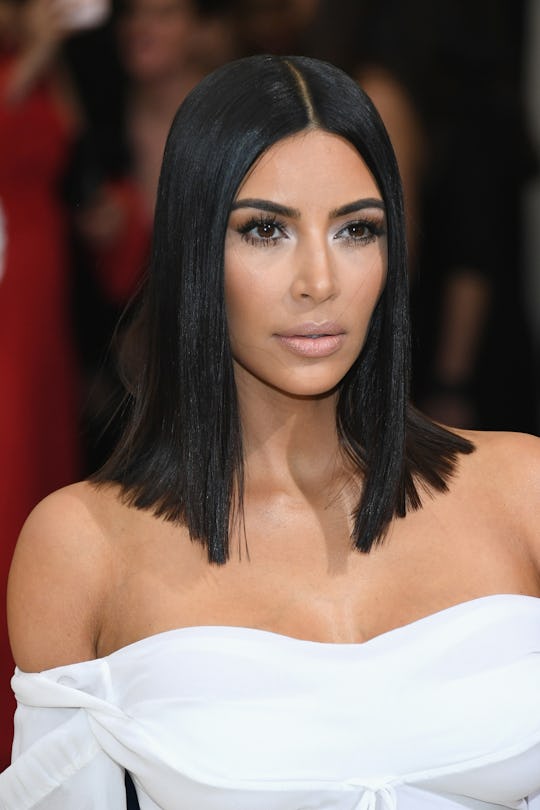 Dia Dipasupil/Getty Images Entertainment/Getty Images
Kim Kardashian Is Launching Her Own Makeup Line
Kim Kardashian-West has always been a dab hand at flawless makeup, this we know for sure. Like her or not, even critics have to admit the reality star could probably do a perfect smoky eye/nude lip/clear skin combo in her sleep. And now that Kim Kardashian is launching a new makeup line, perhaps the rest of us makeup novices might have a chance at stealing a little of her thunder. Especially if there might be an opportunity to pre-order, because who wouldn't love the chance to jump ahead of the crowd? So can you pre-order Kardashian's new makeup line?
The Keeping Up With The Kardashians star announced that she would be dropping the new makeup line, called KKW Beauty, via Instagram on Tuesday. Kardashian recently helped younger sister Kylie Jenner launch a new lip kit collection at the end of April, based on her trademark nude lips, for Jenner's own line, Kylie Cosmetics. The kit was called KKW x KYLIE (which should have acted as a heads-up that something special was on its way from Kim K., but never mind), and included four nude shades of a special "crème liquid lipstick" that Kardashian designed herself. It seemed like a perfectly natural progression for Kardashian to launch her own makeup line after working with her younger sister, particularly since Jenner has often copped to emulating her look.
This new KKW collection will drop on June 21 (you read that right, just a little over a week away), and will be available for purchase through the KKW Beauty website.
While there won't be a chance to pre-order the KKW Beauty line, fans can sign up for notifications to keep them up on the latest news on the website. They can also follow KKW Beauty on Instagram @kkwbeauty.
It is actually rather shocking to realize that Kardashian hasn't fully released a solo makeup line sooner. Now, she did have a decently successful run with a previous makeup line with sisters Khloe and Kourtney Kardashian, aptly named Kardashian Beauty (after the sisters had to drop the initial name, Khroma Beauty, because of a lawsuit) back in 2012. Unfortunately, the brand has rather died off in recent years. While Kardashian Beauty was a collaborative effort, KKW Beauty appears to be a solo venture.
The timing is interesting for KKW Beauty as well, Kardashian has an upcoming Lifetime reality series based specifically on the the industry of makeup blogging called Glam Masters.
Say what you want about Kim Kardashian, the woman is a bona fide genius when it comes to both makeup and promotion. While no one can go out and purchase her promotional skill set, we can at least give her makeup routine a whirl.