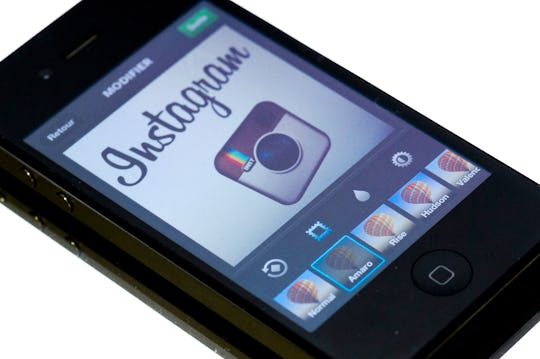 LIONEL BONAVENTURE/AFP/Getty Images
Can You Remove The Instagram Stories Update? It's Not Looking Good
You might have noticed something familiar about Instagram's latest update. Instagram Stories is a new feature that lets you post a series of photos that you can doodle on that will disappear after 24 hours. It's pretty much a blatant rip off of Snapchat's Stories feature and there's been some negative feedback. Some Instagram users are wondering if they can remove the stories update.
It turns out, though, that the Stories feature is an inevitable part of the Instagram update. One crafty Android user has figured out a way to uninstall the latest update and get the older, golden era version of Instagram back. By uninstalling the app and re-downloading it from the website Media Fire, Android users can retrieve the Story-less version of the photo sharing platform. However, you should remember: While this may seem like a simple fix to the problem, definitely be careful downloading something from outside the App Store.
It seems like Instagram Stories are unavoidable, though, for iPhone users. And as the saying goes, if you can't beat them... join them. While Instagram may not have cute dog filters, there's still plenty to like about the new feature: There are six different color filters you can use on your Instagram stories. The feature has a simpler interface on Instagram as well, and many have reported they find it easier to use than it's Snapchat counterpart. Instagram also supports it's users' rights to be shady and allows them from blocking specific people from viewing their temporary updates. One of the biggest conflicts to come out of this new Stories vs. Stories conflict is what to post on Snapchat and what to post on Instagram.
Nathan Sykes isn't the only one with this major dilemma. Many popular Snapchat users, such as Mike Platco, are actually excited about the new platform. Celebrities like Taylor Swift and Nick Jonas have also quickly jumped on board the Instragram Stories train. It offers them a way to expand upon the platform they've cultivated on Snapchat and continue to engage with their fans in a new way. Instagram Stories is still fresh, so it will be exciting to see what innovative ways content creators find to use Instagram's latest feature.
While change can be annoying, especially when there is already a perfectly good app with the same feature, it might be fun to embrace Instragram Stories. And, honestly, who doesn't want another way to show off their fabulous lives?