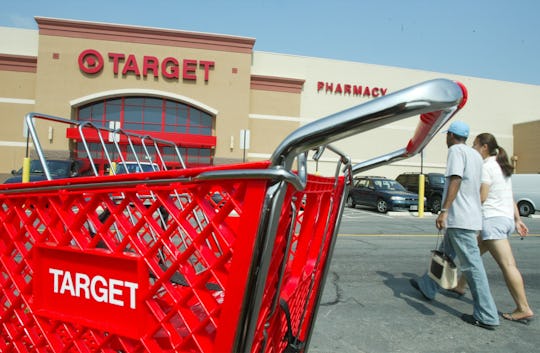 Alex Wong/Getty Images News/Getty Images
Here's How To Return A Gift To Target Without Your Gift Receipt
I'd say my lifestyle — from baby-related stuff to home decor — is about 90 percent Target, which is great, until gift-giving season comes around. Then you wind up with a bunch of cute onesies, toddler-sized hats, and hand-towel sets (thanks mom) in duplicate. But can you return a gift at Target without a gift receipt? Turns out, everyone's favorite store offers a super easy return policy. They also sell practically everything, so getting store credit is basically like getting actual money.
Living up to the standards of its delicious pretzels and popcorn, Target's return policy is spot on. An employee tells Romper that if you don't have a receipt or gift receipt with you — and come on people, it's just polite to include receipts with your gifts — the store will ask for your driver's license to protect against return fraud, and then give you the lowest selling price listed for that item in the form of a Target gift card. As long as products are still in their original packaging, and returned within 90 days of purchase, you shouldn't have any trouble returning them. With Target brand products — like Cat & Jack — you have a bit more wiggle room: returns will be accepted for a full year.
Incidentally, Money Talks News rated Target's return policy as one of the best in the country, along with Lands' End, Athleta, and high-end department stores like Nordstrom and Bloomingdale's. Is anyone really surprised that Target is so nice about returns and exchanges, though? After all, once Target gets you in the door, you're almost guaranteed to spend at least 50 bucks under the gaze of the watchful red bull's eye, especially if baby stuff is on sale.
However, there are some exceptions to the easy no-receipt return policy that you should know about. Electronics and entertainment items must be returned within 30 days, and if they're open, you can't return them — just exchange them for the same title. (Luckily, you can get that title on a different gaming platform. So like, if you don't have Nintendo, but received the Nintendo version of a game, you can exchange it for a title that plays on your kid's Xbox Live.) According to Consumerist, Target and Walmart are actually far kinder towards customers returning video games than other chains.
Pro tip: If someone bought you that picture frame off the Target website, you might well have a receipt without knowing it. An online packing slip inventories your shipment and proves that your purchase came from one of Target's warehouses. So if you want, you can bring the item and the slip to the store and receive the listed price, instead of the lowest available.
In fact, this lowest selling price business is the only major draw back I see to Target's return situation. Without a receipt, Target assumes the gift cost the minimum they sell it for. This means that if the Leap Frog learning system you're returning is on sale, or God forbid, clearance, your gift card will reflect that, even if Uncle Tim paid full price. A rare bummer in Target-land, indeed.
Bottom line: Target's return policy is amazing, even if you don't have a gift receipt. Bring the item back unopened within 90 days, and you'll get a Target gift card for the lowest price at which the item is available. The policy includes electronics and video games, too. If you don't have a receipt, just be sure to bring your driver's license or state identification card along with you — they'll need to see ID to authorize the return.
Check out Romper's new video series, Romper's Doula Diaries:
Watch full episodes of Romper's Doula Diaries on Facebook Watch.