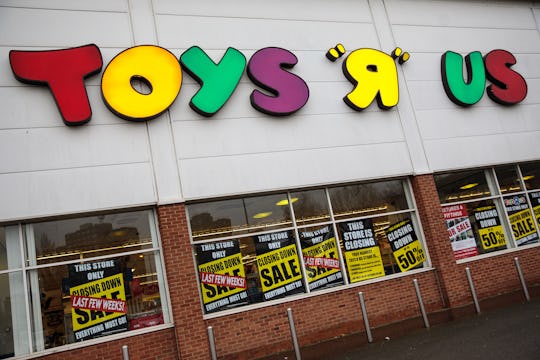 Jack Taylor/Getty Images News/Getty Images
Here's How Returns Will Work During The Final Days Of Toys "R" Us
After many financial struggles and a bankruptcy filing in September, Toys "R" Us, the iconic retail giant, is finally taking down its shingle. As a child of the '90s, I will deeply miss those aisles full of brightly-colored plastic, that friendly giraffe, and that backwards "R." As a human being, I'm also deeply sad for the tens of thousands of people who are about to lose their jobs. As a consumer and a parent, though, I have a few practical questions. High on the list is this: can you still make returns to Toys "R" Us? If so, for how long?
Turns out, toys purchased before stores throw their goodbye-sales will remain eligible for returns under the normal Toys "R" Us return policy as long as physical locations still exist, according to CNN Money. Unfortunately, it looks like that won't be long — Toys "R" Us is only planning to continue paying its employees for the next 60 days, CNN Money reported. Additionally, according to the Toys "R" Us website, all sales made during the upcoming closing events will be final, so anything you buy at an end-of-days discount will be ineligible for returns.
What's your deadline for returning stuff you purchased before the Toys "R" Us liquidation news broke? No one knows, exactly. Toys "R" Us just announced that it will "wind down" all U.S. business last week, on March 15. According to the company's press release, it plans to liquidate inventory in 735 stores. While it's not clear how long that may take, things are expected to happen fast, The Washington Post reported. Romper learned that a court hearing is being held today that will hopefully clarify important issues for consumers.
As I expect most parents know, Toys "R" Us stores will hold major closing sales before the final wrap-up. According to The Washington Post, discounts are expected to start small, at around 25 percent off, and grow significantly — to 80 percent off — from there. (Kids: brace yourself for the best Easter you ever had.) Watch for discounts at stores in your neighborhood. Helping out with some inventory is probably the best way to say goodbye to this iconic, 70-year old toy chain.
Actually, Toys "R" Us isn't likely to disappear into the ether like so much yellow mist. Remember the hullabaloo when F.A.O Schwarz closed down its New York City location? Yeah, me too, and I also remember the joy that greeted the store's midtown resurrection in 2017, which you can read about in The New York Post. Toys "R" Us will probably continue to exist as a brand, explained Reuters. While I know I'll miss watching kids beg their parents for a quarter to ride the giant metal animals outside Toys "R" Us doors, the good news is that Geoffrey the Giraffe will live on.
What about Toys "R" Us employees? Sadly, tens of thousands of jobs will indeed disappear as stores close their doors, CBS news reported. Consumer enjoyment of the coming fire sales will likely be tempered by the fact that this is certainly a tough time for employees, their families, and their communities.
Because stores will close their doors according to individual time tables, it might be a good idea to talk to local store managers about specifics regarding discounts, returns, and discounts at your location. Employees may not be able to answer all your questions, but it never hurts to ask. Yes, stuff gets crazy when large companies shutter, but for now, at least, Toys "R" Us plans to adhere to its normal return policy for items purchased before the discount-blitz gets under way.
Check out Romper's new video series, Bearing The Motherload, where disagreeing parents from different sides of an issue sit down with a mediator and talk about how to support (and not judge) each other's parenting perspectives. New episodes air Mondays on Facebook.