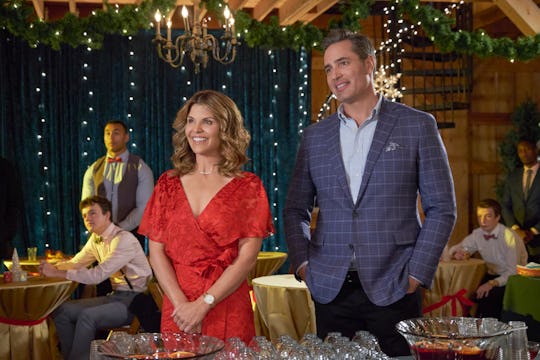 Courtesy of Hallmark
How To Stream Hallmark Holiday Movies, Because There Are Sooo Many This Year
This time of year, it seems like Hallmark is streaming new Christmas movies just about every day. But those without cable are probably wondering: Can you stream Hallmark holiday movies? Luckily, there are a few options for those who want to get their Christmas on.
After doing some research, the best option seems to be Hallmark Channel Everywhere, which is Hallmark's official streaming website and app. To use Hallmark Channel Everywhere, you'll need a cable provider login. That's the same login you probably use to login to other network websites, HBO GO, etc. If you don't have one, now may be a good time to give your friend who does have one their holiday gift, and then politely ask for their login in return.
On both the Hallmark Channel Everywhere app and the site, viewers can stream the Hallmark Channel live, along with everyone else watching on TV. You can also stream a slew of Hallmark original movies on Hallmark Channel Everywhere. Not every movie is available all the time, but Hallmark updates the list of available movies regularly, so if the holiday movie you've been hankering to watch isn't on there, check back!
If you can't get your hands on a cable login, another option is signing up for Hallmark Movies Now. For $5.99 a month (billed monthly) or $4.99 a month (billed annually), you can have unlimited access to almost every Hallmark original movie. The best part? Signing up comes with a free seven-day trial period — so if there are a few specific movies you want to watch, you could totally sign up for a subscription and cancel it before you hit seven days. No judgment.
But if you'd like more bang for your buck, you can also sign up for a general online streaming service — that way, you can get plenty of other content, too. For example, SlingTV, DirecTV Now, and FuboTV all offer similar live streaming packages.
And you're probably going to want to tune into Hallmark sometime soon, because the channel is airing 22 — yes, 22 — new Christmas flicks this holiday season. Hallmark's Countdown to Christmas began pretty early this year, on Oct. 27, starting with the new movie Christmas at Pemberley Manor. Movies continued to air throughout November, and the next one to debut will be Homegrown Christmas, on Saturday, Dec. 8 at 8 p.m. ET. Starring Lori Loughlin of Full House, Homegrown Christmas is about a businesswoman who is forced to work with her high school boyfriend upon returning home for the holidays, after quitting her job. Classic!
Another upcoming Hallmark original garnering buzz is A Gingerbread Romance, which stars Tia Mowry-Hardrict of Sister, Sister. Tia plays an architect tasked with building gingerbread house for a work contest, and she hires a good-looking baker to help. Romance ensues. A Gingerbread Romance will premiere on Saturday, Dec. 15 at 8 p.m. ET.
So if you haven't already, get your streaming setup sorted out, because there are so many Hallmark holiday movies you don't want to miss.
This first-time mom wants to have a home birth, but is she ready? Watch how a doula supports a military mom who's determined to have a home birth in Episode One of Romper's Doula Diaries, Season Two, below. Visit Bustle Digital Group's YouTube page for the next three episodes, launching Mondays in December.