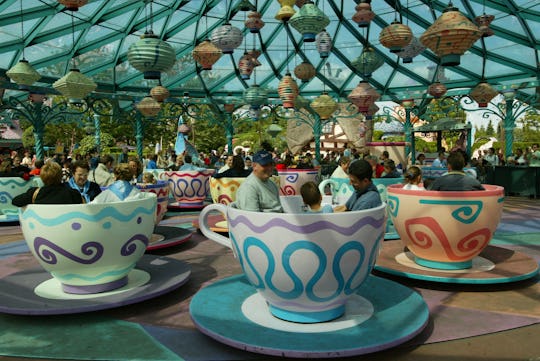 Pascal Le Segretain/Getty Images News/Getty Images
How To Enjoy Walt Disney World With An Infant
When it comes to family vacations, nobody wants their money or their time to feel wasted, and nobody wants to be miserable from start to finish. Unfortunately, for many families, taking an infant on a vacation is exactly all of those above scenarios — your infant can't remember any of the fun, they can't really participate, and it's a hassle trying to make sure they don't cry while you enjoy a museum. But can you take an infant to Walt Disney World? Surely the most magical place on Earth won't let you or your family down, right?
Turns out, Walt was able to perfectly implement what he wanted Walt Disney World to be — an imaginative, first-of-its-kind theme park that specifically catered to families, including newborns. According to Tim Elrod, a Travelmation agent that specializes in planning Disney vacations, Walt's plan worked. You don't just take an infant to Walt Disney World — you truly get to enjoy it. Elrod, who has four children and has turned vacationing at Disney into an art form, tells Romper that some of his fondest memories including taking his 12-week-old son to Disney World. "We have found, in our experience, that infants can be even easier than toddlers in Walt Disney World," he says.
Excuse me? Easier than toddlers. Mickey ears on.
But it makes sense. An infant won't be screaming for the Elsa doll that sings and dances, but they still get to enjoy the park — and so do you. According to Elrod, out of the roughly 40 attractions in Walt Disney World's Magic Kingdom, only seven have height restrictions. "For a babywearing parent, there are a lot of rides you can access with baby in tow," Elrod says, adding that you can also hold your babies in your lap for rides. "Some require the baby to be forward-facing, but on others, they can remain in their slings or wraps. Friendly cast members will let you know what is safest for your baby's age."
Wondering which ride is best for your little one? Almost anything in Fantasyland in Magic Kingdom park, according to Elrod. He says:
There are a lot more available than people assume when it comes to babies riding or experiencing attractions. Some of our favorites include Peter Pan's Flight, It's A Small World, The Many Adventures of Winnie The Pooh, Frozen Ever After in EPCOT, and Kilimanjaro Safaris in Animal Kingdom.
If your baby needs some down time or a little less stimulation, Elrod suggests the PeopleMover, noting that it's his family's favorite attraction. According to the Walt Disney World website, the Tomorrowland Transit Authority PeopleMover is a 10-minute tour of Tomorrowland, located in Magic Kingdom. It's a slower ride with no height requirement, and is a great way to let your baby unwind (or even get a nap started).
As far as simply enjoying being in Walt Disney World with your infant, Elrod has some suggestions. "Our biggest recommendation is sticking to your child's current schedule as closely as possible. We typically stay on property and go back for naps once a day," he says. "The Deluxe Resorts are great for this because the rooms have a balcony to relax on while the baby sleeps. If that is not an option, there are Baby Care Centers located in each of the four theme parks with private nursing mothers' rooms, changing tables, and more."
He also suggests breaking away to a nearby deluxe resort lobby if you want to escape the heat in the middle of the day. "Many of Disney's resorts have cozy seating areas, restaurants, shops, and more to escape the sun and crowds during the middle of the day," he says.
Walt Disney World is more than just a place for children to enjoy — it's an incredible vacation spot for families and adults alike. Even though your newborn won't remember meeting Mickey Mouse or riding Peter Pan with you, it's still worth it to take a baby to Disney World. With all of the amenities there to support you and your baby and a huge list of attractions everyone can enjoy together, it's the most magical place on Earth for the entire family.