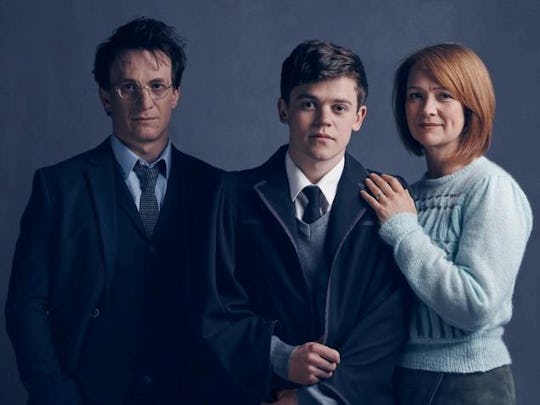 Courtesy of Charlie Gray
Can You Watch 'Harry Potter & The Cursed Child' Online? Not Without Some Magic
July 31 is rapidly approaching, and while many Potter-heads are already holding on to the receipts for their pre-ordered copies of Harry Potter and the Cursed Child, some are still trying to figure out how you can actually see the play, not just read the script. But if you're wondering if you can watch Harry Potter and the Cursed Child online in order to save yourself a trip to London, I've got bad news for you — you're not a wizard and the play is only in London for now.
There's been no word that Harry Potter and the Cursed Child will be recorded for any medium, including the internet. According to The Telegraph, it's actually pretty impossible to even get tickets for this year and that the best availability for a chance to see Harry Potter and the Cursed Child is not until early 2017.
The play's website also has no mention of seeing the show online or in any other fashion other than the stage at the Palace Theatre. In fact, there will be no audio or recording equipment allowed inside the show and the website noted that if a person leaves the theater and returns, they will be checked again to be sure they aren't bringing in any type of recording device.
See why the release of the script is such a huge deal? J.K. Rowling has even started a hashtag, #KeepTheSecrets, as a way to encourage those who see and read Harry Potter and the Cursed Child to not spoil any of the plot for those who don't know.
Can you see how an online version would totally ruin the magic?
From the descriptions of the play to the incredible interviews the creative team of Harry Potter and the Cursed Child has given, I think it's safe to assume that this play will never make it to YouTube. It sounds like an epic story that has to be seen to be believed and it probably won't translate well through the internet. Even Rowling herself said the reason why she couldn't turn this play into a novel and instead opted to release the script is obvious.
Still bummed? I get it. But hold out hope that the play will be making a triumphant re-telling on the big screen someday. According to the Independent, Warner Bros, the studio that has brought to life all of the Harry Potter films, has filed for the trademark of Harry Potter and the Cursed Child. An eighth movie making its way into the world perhaps?
No matter what, remember to #KeepTheSecrets like Severus Snape, the cursed child's namesake did, OK?