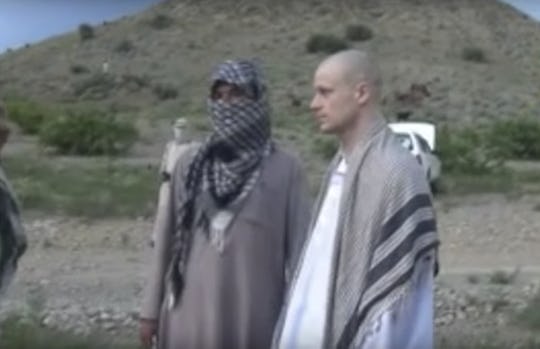 Storyful/YouTube
Can You Watch The Bowe Bergdahl Hostage Videos? You Can, But You Probably Shouldn't
The harrowing and baffling tale of the Taliban capture and release of American soldier Bowe Bergdahl is the subject of the second season of Serial, the record-shattering podcast that's captivated the internet since its debut last year. Just 23 years old at the time, Bergdahl was a United States Army soldier who left his post in Afghanistan and was captured by Taliban fighters. Sarah Koenig, Serial host, ended episode two with a teaser about the videos of Bergdahl as a hostage. Can you watch Bergdahl's hostage videos? The videos are on the internet, but they aren't fun to watch.
Bergdahl was held prisoner for five years and, after extensive negotiations between the U.S. and the Taliban, was released on May 31, 2014 in exchange for the release of five Taliban members being detained at Guantanamo Bay. His release was considered controversial at the time and still is. Now, with recent news that Bergdahl will face a general court-martial before the army, the controversy surrounding his supposed desertion and captivity is back in the news again thanks to Serial spotlighting his story for season two.
On Monday, Bergdahl was charged with desertion and "misbehavior before the enemy" — the latter carries a maximum sentence of life in prison. Lt. Col. Mark Visger, the U.S. military officer in charge of Bergdahl's September hearing, recommended that Bergdahl face no jail time. Unfortunately for Bergdahl, Gen. Robert Abrams, commander of the U.S. Army Forces Command who ordered the court-martial, disagreed.
Surprisingly, as Serial host Sarah Koenig notes at the beginning of this week's episode, even Sen. John McCain — the man you would think would have the most intimate understanding of what Bergdahl faced in captivity given his own experience as a POW in Vietnam — told The Boston Herald he would call a congressional hearing if Bergdahl avoids prison time.
Bergdahl was held for five years by the Taliban; his capture made international news as the Taliban released several videos of him throughout his imprisonment. Koenig mentioned the videos at the end of the second episode of season two. These videos show a disturbing, grim picture of what his imprisonment was like and incredibly, many of these videos are still available online for the world to see.
While Bergdahl has no desire to relive this dark chapter of his life, fans of Serial and anyone who wants to understand more about what Bergdahl faced during captivity can get an intimate glimpse by watching these hostage videos by the Taliban.
But let's stop for a minute... should you?
On the one hand, Serial is the kind of podcast that encourages curiosity and further investigation. Read any thread on the Serial podcast subreddit from season one to understand the level of obsessiveness some fans have about the show. But on the other hand, it's important to remember: this isn't fiction. While crafted with impressive storytelling and narrated in Koenig's at-times sardonic tone, we have to remember: Bowe Bergdahl is a real person who's facing real jail time if found guilty during his court-martial.
What do you have to gain by watching these videos? For some, watching Bergdahl's hostage videos provides a voyeuristic satisfaction of seeing a deserter get what he deserves; for others, it provides a deeper context about what might have been going through this young Army officer's mind at the time. But watching videos created by extremists whose main goal is to destroy Western values also gives them what they want: an audience. They may see the number of views on a video as evidence of support for their initiatives, or at least evidence that they are reaching people, which in turn only incentivizes them to commit further acts of violence.
As much as I love a good story on Serial as the next fan, I don't think I can say for sure if these videos really add value to my personal listening experience. But that's just me — if you really want to see them, the Bowe Bergdahl hostage videos are only a Google search away. Don't say I didn't warn you.
Images: Storyful/YouTube.