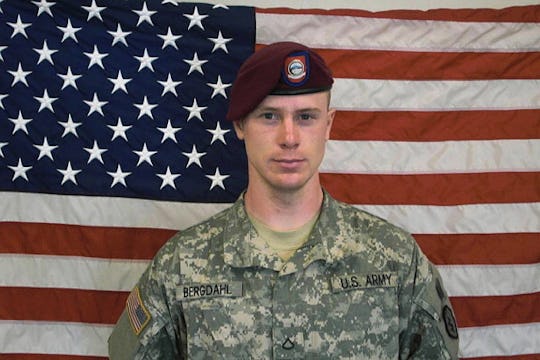 Who Is Bowe Bergdahl Of 'Serial' Season 2? What To Know About The Series' New Focal Point
Since the new season of Serial released this morning, listeners have been asking a slew of questions. Yet the main question on everyone's mind is who is Sergeant Bowe Bergdahl, the United States Army soldier who was held captured by the Taliban in 2009, was then rescued in 2014, and who is now being called a traitor — who is now facing charges of abandonment and desertion?
Here's what we know. Sgt. Bergdal enlisted in the Army in 2008. He graduated from the infantry school at Fort Benning, Georgia that same year and was then assigned to the 1st Battalion, 501st Infantry Regiment, 4th Brigade Combat Team, 25th Infantry Division, based at Fort Richardson, Alaska. Bergdahl's unit was deployed to Afghanistan in May 2009, and just one month later he was walking off base and into the open desert, where he was captured by the Taliban-aligned Haqqani network in Afghanistan and held from June 2009 until May 2014. Why he walked off base is still unclear, and it is the crux of both the Army's ongoing investigation — Bergdahl has been charged with one count of desertion and one count of misbehavior before the enemy — and the second season of Serial, a podcast program which explores a specific over multiple episodes.
In the first episode listeners learn a bit about the backstory of Bergdahl. They hear about his rescue, how his reunion was short-lived, and the charges he faces. They also hear about his time in Afghanistan and learn his intentions when we abandoned his post — all explained in his own words. (These "interviews" were conducted by Mark Boal, writer of The Hurt Locker and Zero Dark Thirty, shortly after Bergdahl's return.)
Here's just one excerpt, in which Bergdahl speaks about his time in captivity:
How do I explain to a person that standing in an empty, dark room hurts...does your body hurt, well yes you're body hurts. But it's more than that...I would wake up not even remembering what I was.
No matter how you feel about Bergdahl, his "desertion," or how our government handled his release — trading five Taliban detainees from Guantanamo Bay for Bowe — his story bound to surprise us. As Serial host Sarah Koenig explained to NPR, Bergdahl doesn't sound like he's avoiding answering tough questions; instead, he sounds like he's really trying to explain what happened.
You can listen to the first episode on the Serial website, on Pandora, or you can download it directly from iTunes. Future episodes will be released at 6 a.m. EST every Thursday.
Images: U.S. Army/Handout