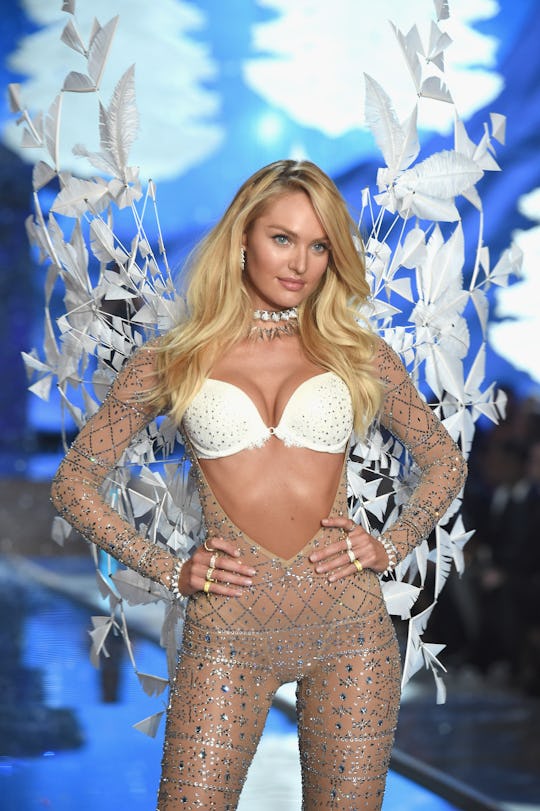 Dimitrios Kambouris/Getty Images Entertainment/Getty Images
Candice Swanepoel Shares Son's Christmas Photo
Everyone could use a little bit more holiday cheer this year and now there's more to celebrate this season because supermodel Candice Swanepoel shared her son's first Christmas photo on Instagram and it's too cute for words. The 28-year-old first time mother posted the adorable snap on Friday, which shows the Victoria's Secret Angel holding her 2-month-old son Anacã — who's wearing just a diaper along with a miniature Santa Claus hat — as they look at their festively decorated Christmas tree together.
Swanepoel and her fiancé Hermann Nicoli welcomed adorable Anacã, their first child, to the world in early October. And the South African beauty — who can speak Portuguese, Afrikaans, and English — named her baby boy after the Brazilian word for a "bird"of the Amazon region, according to the Daily Mail.
This festive photo isn't the first time the new mom has shared a glimpse of her son with the world, as she was very public about her pregnancy on social media and posted numerous photos of her growing baby bump on Instagram along with even more adorable shots of her baby boy smiling and snoozing once he was born.
Ever since Anacã's birth, Swanepoel has used fame platform and her wide audience on social media to speak out against a few very important issues facing society and the world right now, such as the stigma around breastfeeding in public and the humanitarian crisis facing Syrian children.
Earlier this week, Swanepoel tackled the breastfeeding stigma in a post on her Instagram account, which pointed out the importance of normalizing breastfeeding. In the close-up, black and white shot of her breastfeeding her baby boy, she addressed the double standard that countless mothers deal with every day. And as a lingerie model, the irony is even more evident because — as she pointed out her in the caption — no one seems to mind when she poses topless in magazines, but some feel uncomfortable woman needs to feed her child in public.
"I have been made to feel the need to cover up and somewhat shy to feed my baby in public places but strangely feel nothing for the topless editorials I've done in the name of art..?" she wrote in the photo's caption and continued to explain:
The world has been desensitized to the sexualization of the breast and to violence on tv...why should it be different when it comes to breastfeeding? -Breastfeeding is not sexual it's natural- Those who feel it is wrong to feed your child in public need to get educated on the benefits breastfeeding has on mother and child and intern on society as a whole. 💪🏼💙 👫👭 #mothernature
Before this post, and 11 days before Christmas, Swanepoel posted a picture of the Syrian "white helmets" rescuing injured children from the destruction the Syrian civil war has inflicted on the country and its most innocent civilians. She wrote in the caption that she feels "ashamed seeing these devastating pictures while we are all preparing for Christmas." She continued:
Why is this happening and no one can do anything about it...! Something needs to be done to stop this, And not just on social media in REAL life...because these are real lives of real children and families living in fear and desperation.
Swanepoel's recent social media posts show that there's a lot to be thankful for this holiday season, whether it's a roof over your head, a hot meal, or simply seeing a smile on your child's face as they celebrate the festivities. Sure, there are plenty of problems to tackle, but this adorable shot of Anacã's first Christmas also shows that there is still a lot of good in the world.