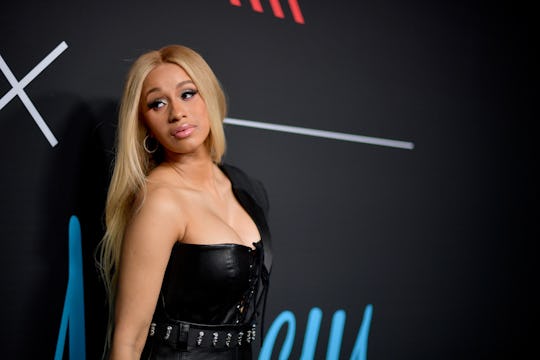 Matt Winkelmeyer/Getty Images Entertainment/Getty Images
Fans Are Accusing Cardi B Of Copying Queen Beyonce & They Are NOT Happy
Cardi B just welcomed her first baby, daughter Kulture Kiari Cephus, on Tuesday. She announced the arrival of her little girl with husband Offset on Instagram, and fans were quick to notice something vaguely recognizable about the post. In fact, Cardi B was accused of copying Beyoncé with her birth announcement, which does admittedly look eerily familiar.
The "Bodak Yellow" singer and Offset announced the arrival of their little girl on Wednesday via Instagram. Little Kulture Kiari was reportedly born at a hospital in Atlanta, Georgia on Tuesday, where Offset was by his wife's side through the entire birth. Fans should be pretty excited to learn of Kulture's birth so quickly after it happened considering the rapper's penchant for keeping her major life events a secret. She kept her pregnancy under wraps until an April performance on Saturday Night Live, when she showed off her unexpected baby bump in a tight white dress mid-song. Talk about dramatic. She and Offset were also secretly married last April, a fact the couple kept secret until Cardi B tweeted about it last month. Now that her first baby has arrived, the singer didn't waste any time announcing her birth. And her Instagram post was pretty gorgeous.
Cardi B was still pregnant in the birth announcement, naked and curled up on her side amid dozens of flowers with her hair flowing all around her.
Of course, some people couldn't help but notice how familiar the ethereal pose looked. Probably because the last time a pregnant singer posted a similar photo, she basically broke the internet.
Back on Feb. 1, 2017, Beyoncé announced she and husband Jay-Z were expecting twins with the most iconic pregnancy announcement in recent memory. She eventually gave birth to daughter Rumi and son Sir in June of last year. And yes, I think it's safe to say there might be a few similarities here. The hair, the baby bump, and of course the flowers. The two posts looked similar enough that fans were calling out Cardi B for copying Beyoncé.
So I can sort of see what people mean, the photo shoots are similar. But copying? I think it's important to remember that Beyoncé does not actually own pregnancy and all the flowers in the world. In fact, considering she is reportedly a fan of Cardi B's work, I think it's safe to say she would be flattered to discover she inspired such a lovely birth announcement if that is indeed the case.
For fans who want to see a different birth announcement, please feel free to check out new dad Offset's Instagram where he posted another nude pregnancy shot to let fans know his wife had given birth.
While fans are busy debating whether or not Cardi B is just a big old copy cat, she is presumably busy bonding with her new baby, something she's been super excited to do for months now. Back on June 22, the singer tweeted that she was looking forward to her "biggest blessing" after feeling a bit depressed, according to Us Weekly:
But instead imma have my biggest gift and biggest blessing .The one person who I'm going to always be perfect too.The person that while i was feeling depressed a while ago even when i have everything i wanted in my hands i look down my stomach and got happy and motivated again !
I seriously doubt she's worried about people pitting her against Beyoncé in some weird pregnancy/birth announcement thing. In fact, I strongly suspect neither of these creative women would give any of this a single thought. Because neither of them seem like people who support pitting women against each other... which is why we love them both.