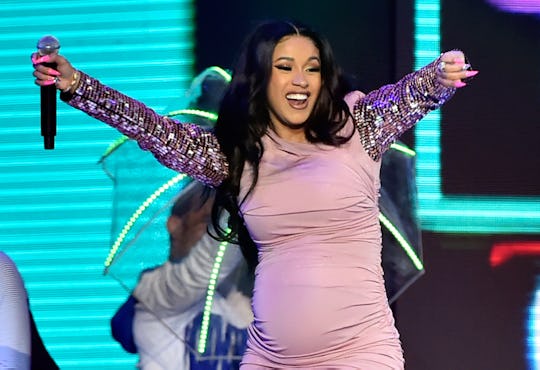 David Becker/Getty Images Entertainment/Getty Images
Cardi B Didn't Want To Take A Fan Selfie, & She Actually Makes A Great Point
Much like everyone else on the planet, there was a time in my life when I sort of wished I was famous. Because let's face it, being famous looks pretty amazing. You get to be rich, everyone loves you and wants to take a picture with you! Of course, I've long since gotten over it -- mostly because I prefer to walk around looking like I just got out of bed and would rather if no one ever took my picture. That being said, I totally get why Cardi B didn't want to take a fan selfie. I mean, being famous might be fun and all... but fans wanting to take your picture, even when you're pregnant and tired? Hard pass.
The pregnant rapper sparked a mall fight at an upscale shopping center in Las Vegas, Nevada recently when she reportedly refused to have her photo taken by a fan. People reports that Cardi B was trying to leave the Fendi store inside The Shops at Crystals in the CityCenter complex when she ran into some "fans" (who were reportedly mocking her, so whether or not that classifies them as fans remains to be seen). When these fans asked Cardi B for a photo, she reportedly said that she wasn't feeling happy about her appearance and declined. In a perfect world, that really should have been the end of it. Sadly, it wasn't.
The fans supposedly thought Cardi B's reason for not wanting her photo to be taken was "fake" and got angry. In fact, they got angry enough that a fight broke out, according to one of the eyewitnesses, Lolita Beckford-Dawkins, who told The Blast that people started to yell at the rapper and call her "fake as s**t," which understandably got the "Bodak Yellow" singer riled up. Things apparently got heated with Beckford-Dawkins and her friends advancing on the pregnant rapper until a store employee closed the doors and locked them in. And here's what's really crazy: in a video of the fight, a man can be seen screaming at the pregnant rapper to "come outside you b**ch!" This had some people wondering if the fight that broke out was based on Cardi B shutting down the store for a shopping spree, but it was really just a pregnant woman who didn't feel like getting her picture taken. It seems as if the so-called "fans" felt that Cardi B owed them a picture, in the mood for one or not, which is how things escalated.
Cardi B tweeted about the incident after it happened, although the tweets have since been deleted. In one tweet, she responded to another fan who called her out for not wanting to get her photo taken with a fan, according to People:
I always take pictures with fans. If I don't have no makeup, in a rush, not in the mood, I'm not obligated and not everybody is YOUR FAN. Clearly.
To be honest, Cardi B's reason for not wanting her picture taken shouldn't matter. She's an autonomous human being who, regardless of what she does for a living, still gets to choose whether or not she wants her picture taken. In my opinion, the fact that she is pregnant does make a difference. It's hard enough to be pregnant at the best of times, but imagine someone demanding you have to get your picture taken whether you like it or not? Even if you're feeling bloated or tired, or just icky in general? When you're pregnant, you already feel like you don't have control of your own body. So to have fans not only try to force you to take a photo with them, but then get violent when you decline... well, that just plain sucks. Poor Cardi B.
Clearly fame is not all it's cracked up to be.